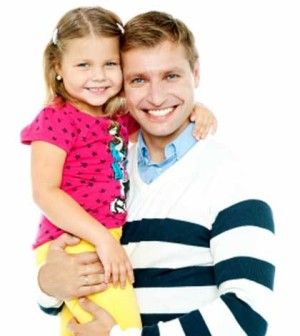 For children, Father's day is the perfect day to present a gift to their dad. But what Father's Day gift would make their dad really happy?
Whether you're a daughter or a son, I know this would be on your mind whenever Father's Day approaches.
Well, it's already around the corner, and this year it falls on Sunday 15th June, 2014!
Do you think your dad would like an expensive gift? I don't think so.
But yes, you can gift him something that probably he needs, but stops himself or shy's away from purchasing.
I'd sometimes gift my father a shirt, couple of golf T-shirts, a travelling suitcase, or anything I notice he really needs, but will never buy for himself.
And he would gift us back with the best perfumes, chocolates, and take us out to watch a movie.
I've a very special father and I even wrote a tribute post on my father some time back.
This time, I thought to make Father's Day a little different and special in my own family, so I asked my husband to write a post on it.
He is a caring and loving father. And he did a great job by making this post exceptional and writing it as a gift for all teens and young adults.
However, I am sure you too, as a reader, can relate to it because you all have/had fathers, and some of you are fathers too!
My husband has been involved in Aha!NOW since its inception, working mostly behind the scene, and without him I would be really lost 🙂
This is the first time he is making his way to the foreground because I wanted a father's perspective to make this Father's Day a special one for my kids, and for my readers.
Please welcome Vinay with his very first post, though there would be more in the coming days as he's going to share my responsibilities here on Aha!NOW.
That's because Aha!NOW is growing and it becomes tough for a single person to manage it ALL! 🙂
"I cannot think of any need in childhood as strong as the need for a father's protection." ~ Sigmund Freud
On Father's Day, my children surprise and shower me with gifts. Although they know I don't like them spending money on me, but I accept their gifts as a token of their love and care.
This is what a Father's day is all about – showing that you care and expressing love to your father.
I consider myself fortunate whenever my children think of me, and even take out time to be with me.
That's because nowadays children have become so busy in their own world.
They're mostly occupied with gadgets, surrounded by friends, involved pursuing the latest trends, or either are engrossed in studying.
Therefore, it makes me really happy when my children decide to spend time with me. Their precious time is the best gift they can give me, ever.
However, I'd confess that like most fathers, I too get busy and stuck with my work, but then I don't want to become a father who has no time for his family.
That's why, all the more, as a father, I love and cherish Father's Day, the day when I get the personal attention of my children.
So, when my wife asked me to write a post, I thought of this as the best opportunity to convey my message as a father across to everyone.
And of course, to make up for all the missing communication with my children for the time when we both get too busy. 🙂
"It is easier for a father to have children than for children to have a real father." ~ Pope John XXIII
Being a Good Father
While I accept the gifts that my children give me, about which I tell them should not be expensive; I really have a strong desire for some other kind of a gift.
It might sound weird, but yes I'm demanding a gift from my children on this Father's Day.
It doesn't always have to be a money gift. For example, read this for choosing activities as gifts.
But before even thinking of expecting a gift from my kids, I need to make sure that I deserve it. Merely being a father doesn't entitle you to demand anything from your children.
You first need to be a good father.
Harleena has written a brilliant post about it, which I am sure you'd love to read.
Of all the tips to be a deserving good father mentioned in that post, I'm trying my best to work on staying calm and patient.
Relationship between a father and his children, as in every real relation – is based on good behavior, kind intentions, pure and selfless love, care, and compassion.
Such relationships are much stronger, even if they're not blood relations. Love is thicker than the blood I'd say.
Last year on Father's Day, Harleena wrote another beautiful post – Understanding the Role of the Father in Child Development.
I learned a lot from it and I feel that every father should read that post to become the PERFECT father to his children.
You'll realize how important you're for your children – the PERFECT acronym says it all!
Coming to this post, it is an open letter and my gift of love to my kids as well as thousands of teens and young adults all around the world, who love their father and want to give him the best gift this Father's Day.
Even the other grownups can share their life experiences and add more value to this post to make it a valuable resource for kids to understand a father's viewpoint.
What prompted me to write this post is that I realized how seldom I get the time to chitchat with my children and communicate regarding the essential things about life.
Well, as a father, do you talk to your children about life and teach them its lessons? I wonder how often you find the time or how available are your children to listen to you.
I feel, as a father, it's my duty and responsibility to prepare my children for their journey into life, and help them make it successful by sharing my knowledge and experiences with them.
Although children have their own lives, but to be successful in life, they need a mentor, just as is the case with any other aspect of life.
I want to teach my children how to be happy in life. If they find me worthy, then the best gift they can give me on Father's Day is to read, remember, and pursue the following lessons in life.
DO READ: How can I be a better parent?
"The father who does not teach his son his duties is equally guilty with the son who neglects them." ~ Confucius

The Best Father's Day Gift
This is what I'm going to tell my children – if you want to give me a gift to make me happy, then – read this entire post.
I'm not going to make extravagant, unreasonable, unrealistic, or impossible demands. Your happiness is inherent and embedded in my desire.
I don't want any riches, but enrichment of your life. I don't want any accolades, but want to hear your appreciation by others.
I don't want to make your life difficult, but make it successful, though for that to happen it may have to go through hard – testing times.
Are you ready to give me what I want? Okay, here it is:
"You're special to me. That is why I want you to be a person of substance, a real gem of a person.
Of course, you can be yourself and have your identity, but it would be nice if you can get better, and gradually become the best.
Be wise and make the most of life, and for that you need to give your life a direction and a push.
Act mature, be good, humble, and humane. Stand by your values and have a meaning in life.
I want to see you grow and evolve into a successful and happy human being by improving your life and taking it to a higher level."
Is this too much to ask for?
Well, honestly, may be yes. To fulfill my desire, you need to take many steps – and I can help you in that.
You don't have to be too hard on yourself, or feel too pressurized.
I can simplify my desire and break it down into achievable objectives. You can go at your pace and achieve them in bits.
These will be my lessons of life that I acquired from my parents, and enriched it with my own wisdom.
I want you to take these lessons, add your own knowledge and experience, and pass on to the next generation.
GOOD READ: Transform Your Life to Be Happy in 17 Simple Steps
"To be as good as our fathers we must be better, imitation is not discipleship." ~ Wendell Phillips

Lessons Of Life For Every Child
As you grow older, you'll realize that the aim of life is to be happy.
Everything you do is ultimately to be happy in life. Whether it's being with friends, securing good marks in school, celebrating in a party, working out in the gym, or eating the best food.
If you learn about what exactly are the ways to be happy, you'll cultivate happiness within you and reap love and peace out of it.
Yes, that's true. More the happiness quotient in your life, more loving and peaceful you are.
I've created a 10-step guide for you just for that purpose.
The first step in bringing happiness into your life is to be happy with yourself.
1. Know that you're special
Every person in this world is different. Believe in this fact – you're special and unique, and be happy about it. Your belief will become strong if you know the following 3B's:
1)    Be familiar with yourself – Make an honest overall assessment. Find your strengths and weaknesses. Take help of your friends and peers if needed, or ask your parents.
2)    Build on your strengths – Every person has some specific skills or talents. You too have them. You need to discover and develop them. That will make you more special.
3)    Believe in yourself – Nothing can be achieved if you're not confident of yourself. Always believe you're special, and you can achieve and do what you want.
NOTE: Don't deceive yourself or others. Have the belief that belief has power. Work on yourself – every effort is worth it. Don't waste your time on useless activities, time is very precious.
2. Be a gem of a person
Be real, be honest, and always know your true value. Be true to yourself, and know that your Self is the truth that will guide you. Develop these 3S's:
1)    Self-esteem – Love and value yourself. Get rid of all the complexes because you're worth more than you think. Read this post to enhance your self-esteem.
2)    Substance – Be a person of substance, and a person of character and integrity. Be the real person by being conscientious, a person of value, who can be trusted.
3)    Smartness – Use your intelligence in your daily life. Make smarter choices, smarter decisions, and carry a positive attitude approach to all aspects of life.
NOTE: Never fake yourself. Never hate yourself. Under any circumstances, never choose to be a bad or negative person.
"Character is like a tree and reputation is like a shadow. The shadow is what we think we are; the tree is the real thing." ~ Abraham Lincoln
3. Just be yourself and become better
You need to keep your identity – don't copy anyone else's. Love yourself for what you're by adopting the 3D's to be progressive.
1)    Do your own things – Don't try to be and do what your friends do. Have the belief and determination to do your own things that you love to do.
It's okay to be different, not just for the sake of being different, but different by virtue of quality.
2)    Discipline yourself – You've potential but you can only tap it if you're disciplined. Adopt good habits, healthy routine and robust time management techniques to make the best of yourself and your time. Here are the tips for time management that might help you.
3)    Develop yourself – Always make efforts to improve and evolve. You're good, but you can always be better. You increase your chances of success by trying your best, to be the best.
NOTE: Don't do anything that may harm or hurt others. Respect your parents, elders, society, and the norms, if they're just and good.
DON'T' MISS THIS: Why Fuss About a Good Habit
4. Be wise and leverage life
At times, things don't go the way you want them to. However, if you try, you can change the course of your life by applying the things you learned in life. Use these 3L's in life.
1)    Learning or knowledge – You've read that knowledge is power, and that's true. By applying it in life, you gain experience. Thus, you attain wisdom.
If you're wise, you'll always make the right choices that bring you happiness. You should read this – How to Change Your Life with Knowledge
2)    Logic or reason – Override your confused feelings with logic and validate the reasons behind your thoughts, words, or actions. It may help you in making important decisions of your life.
3)    Lessons of life – Learn from the experiences of your life and from the lives of other people. This is your shortcut to success. Read books and watch movies that teach you, and save your time learning it on your own.
NOTE: Don't get tempted to make wrong decisions in the flow of emotions. Always stop and think before reacting. Sometimes, as time passes, your decision also changes.
5. Empower yourself with direction and drive
I want you to keep your head high always, wherever you go and whatever you do. Have the following 3P's in your life to be happy:
1)    Purpose – Enjoy your life, but know that there's a purpose why you're here. If you know the purpose of your life, it will make things easier for you. I want you to read this post and work on the aspects mentioned in it.
2)    Passion – You know, you should be mad like a lover to do the task you love – go after the aim you want to achieve. Dream, think, and work on it day and night. Read How to Find Purpose in Life and Be Happy – follow the tips to be successful.
3)    Power – You can have power in your life if you prepare yourself, practice your skills, and have patience. This post will help you to develop your strength and power. You'll feel more strong, confident, and capable.
NOTE: Don't misunderstand the cliche "live life to the fullest" to mean that you can take drugs or resort to addictive habits like alcohol drinking and smoking. Remember that makes you powerless and you lose your purpose of life, which in fact is ruined.
"Train up a child in the way which he should go and when he is old he will not depart from it" ~ Proverbs 22:6
6. Bring maturity and gain reputation
You're growing up, so remember that people will judge you by your behavior. You risk your reputation if you hurt others with reference to these 3R's.
1)    Romance – Never play with anyone's heart because romance is not a game. Know the difference between infatuation, love, and lust. Be careful because such matters affect your life more than you think. Certain mistake can turn out to be very costly and cause irreparable damage.
2)    Relationships – Responsibly manage the interpersonal relationships with your friends, peers, family, or even colleagues. Be mature in your interactions, develop a good rapport, and make connections that will go a long way in the journey of life.
3)    Religion – Always respect people's faith. Be recognized as someone who values humanity and treats others at par, irrespective of demographic differences. Follow your religion, but be sensitive enough not to hurt the sentiments of people of other religions.
NOTE: Wait for the right person and the right time to have an affair or fall into a relationship. Value yourself and your love, don't give up or throw it away. Build real relationships, and never misuse them.
MUST READ: Why Does Love Hurt in a Relationship
7. Practice goodness and be human
Develop the best human qualities that distinguish you from the others. Develop your finer emotions and treat people well. Have these 3G's in your life:
1)    Goodness – Always choose to be good, no matter what the situation or circumstances. Always be kind and compassionate, and express goodness in your thoughts, words, and actions.
2)    Generosity – There is joy in giving. Experience that and you'll love it. Always be ready to help others and never feel that you waste time by helping others.
3)    Gratefulness – You should always be thankful to everybody and everything. The fact that you're alive is a miracle. Never waste any opportunity to return a favor.
NOTE: Don't expect instant results and returns. The dividends of being good and giving come late, so have patience and keep practicing goodness.
DO READ: How to be grateful every single day
8. Have a meaningful life and stand by your values
Your life should always have a direction, meaning, and purpose. Then you'll be able to stand on your feet, undisturbed by external circumstances, and lead a happy life.
Inculcate the following 3Ps in your life:
1)    Philosophy – It's your belief about life and how to live life. Make your own philosophy of life but do it wisely and keep developing it. This helps you to have a meaning in life.
2)    Principles – Make some rules for yourself that help you in become a good person. These are your morals and values that guide your life.
3)    Personality – Create a personality or persona that expresses your true innerself. Do not pretend – just be as you are. Being yourself reduces stress and makes you happier.
NOTE: You may not like rules or values, but you'll later realize that values make you valuable. And, the real personality is without the mask.
9. Improve your life
Like the water in a river, your life keeps changing. You need to keep improving your life and making it better. Take help of these 3A's in your life:
1)    Administer – Take charge and control of your life. Create a life plan and live according to that. Also, plan your career so you stay abreast and ahead of others.
2)    Accept and change – Accept your life as it is and make it the starting point of a new beginning. Go ahead and change it to what you want. Adopt a healthy lifestyle and one that brings you happiness.
3)    Analyze – Always assess and evaluate your life. Improve the standard of living, and enhance the quality of life by nurturing your mental and physical health.
NOTE: Always change for the better. If you do not, then you don't grow. Those who change fast, benefit early. Don't fall for the false standards of life – absolute materialism doesn't give everlasting and real happiness.
10. Ultimately grow and evolve
Your aim in life should be to evolve. Compare your life with your past and become better in all aspects. When you grow up, you'll realize that knowing and understanding your innerself make you most happy. Bring happiness into your life by these 3E's:
1)    Education – You don't learn everything in school or college – life is an institution that teaches you a lot. Learn from the failures in life and treat them as stepping-stones to success. Create a vision for your future and strive for perfection.
2)    Evolution – It means development, and every thought and action contributes to it. Remember that the essence of your behavior encodes in your genes, which you transfer to the next generation.
3)    Enlightenment – This is the stage when you know it all. Your spiritual self is very powerful and you can use its potential by using the power of prayers. Once you're peaceful with yourself, happiness will envelope your life.
NOTE: Practice meditation and breathing exercises – they help you to be aware and mindful. Thus, you live in the NOW or the moment and that is the state of bliss or real happiness.
RELATED READ: How to Rise Up Every Time You Fall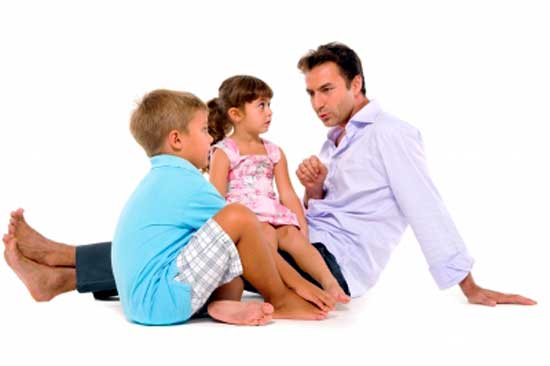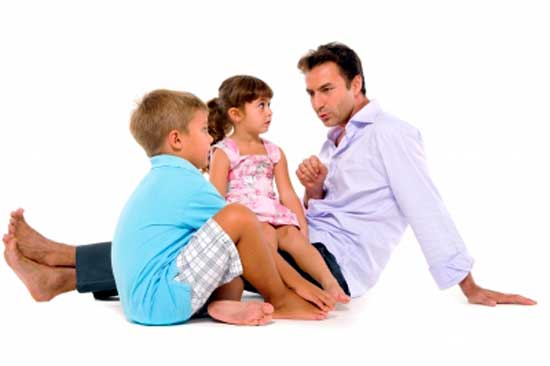 I'll be very happy when you work through the various stages, take the progressive steps, make your life better, and bring happiness into your life.
This will be the best gift that you'll give to your father.
You don't have to memorize all the steps and points – just bookmark this post, return to it frequently. Gradually, everything mentioned will become a part of you, if you practice it.
Hope it helps and thank for you time!
I know that I'm not perfect as a father, and I may not be a good role model either. I'd ask you to forgive my shortcomings and strive to become better than me.
Thank you for reading and know that you've really made me happy. 🙂
"When I was a boy of fourteen, my father was so ignorant I could hardly stand to have the old man around. But when I got to be twenty-one, I was astonished at how much he had learned in seven years." ~ Mark Twain
So, how did you like these life lessons from a special father to his children, and to all the youngsters out there? Wasn't it amazing?
I hope you enjoyed this Father's Day special post, dedicated to every father out there. 🙂
Over to you –
Which of the above-mentioned aspect would you like to gift your father? Do you think it will make him happy? As a father, what do you expect from your child as a Father's Day gift? Share in the comments.
Photo Credit: FreeDigitalPhotos