---
↑
Black Friday Cyber Monday Deals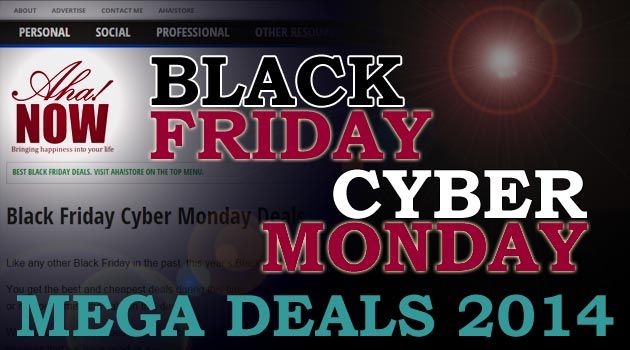 Like any other year in the past, this year's Black Friday and Cyber Monday deals are special too.
You get the best and cheapest deals during this time. There should not be any excuse or reason to miss the sale on these days.
We present to you the best deals on this Black Friday and Cyber Monday – about the products and services that we have used or are using, and have felt good about. 🙂
DURATION: All offers* from Friday November 28 to Monday December 1, 2014 (a few extend till the 2nd Dec.)
⇒ Hostgator Black Friday/Cyber Monday Deal (75% Discount)
⇒ Siteground Hosting Black Friday/Cyber Monday Deal (upto 70% Discount)
⇒ GoDaddy Domain Black Friday/Cyber Monday Deal (upto 40% Discount)
⇒ Grammarly Grammar Checker Cyber Monday Deal (50% Discount)
⇒ MaxCDN Cyber Monday Deal (25% Discount or 3 FREE months)
For non-bloggers, I've special deals at the Aha!Store.
To start with, we pay our gratitude to the things we used in the past, which in a way helped us reach where we are today. Then the ones that we are using presently.

We make sure that you get the tried and tested products and services at the best ever possible rates – the ones for which you probably will have to wait for one more year before you get them again!
HOSTING – HOSTGATOR
We used Hostgator for 3 years, and we were happy with it as Aha!NOW was small, and we had less traffic comparatively. We recommend Hostgator for all new blogs and bloggers, who have just started out.
One thing very special about Hostgator that we didn't experience anywhere else is its excellent Support. They were always there for us non-techies to help us resolve the problems, if and whenever we faced them.
This Black Friday through Cyber Monday, they have broken all records by offering 75% DISCOUNT!

There will be fire sales off and on offering 75% DISCOUNT on ALL HOSTGATOR NEW PLANS AND PACKAGES for the first invoice.
Don't worry if you miss the FIRE SALE, because you still will have a chance to avail 55% Discount for the rest of the time on these 4 days – from Nov. 28 to Dec. 1.
Remember: The discount is only applicable to the first invoice and only on new purchases.
TIP: If you would like to maximize your savings, you should order your new package for the longest billing cycle available on their signup page.
Sale starts Friday November 28th at 12:00AM and continues through Monday December 1st at 11:59PM.
FREE GRATITUDE BONUS
You also get FREE ONE SIDEBAR BUTTON AD BANNER (125×125) WORTH $75 FOR ONE MONTH ON AHA!NOW, if you Sign Up for this Hostgator special offer using my link. It doesn't get better than this!
It's one of the best ways to highlight and bring traffic to your blog/site.

Check out the Advertise page on the blog to know more about the Ad banner.
HOSTING – SITEGROUND
Yes, I changed my hosting. Surprise!
Aha!NOW is now hosted on SITEGROUND.
This has been my little secret that I kept from you all. But there has been a reason.
I wanted to test and try out Siteground before I reached to any conclusions and started promoting it.
It's been 2 good months using the Siteground hosting and I can confidently say that I really like it.
In fact, I also got positive feedback from many site visitors and blog community members that the site speed has tremendously improved.
I had to change my site hosting because Aha!NOW had grown way too big for my previous hosting. Also because now I have a very active and engaged community over at the blog, that makes the site consume more host server resources.
Now, I'm with Siteground on their best plan for WordPress Hosting – GoGeek. Yes, Siteground has a WordPress specialized hosting and honestly, it has given me peace.
I'll narrate my experiences with Siteground in a review later on the blog, but for now, here is the Black Friday & Cyber Monday deal from Siteground:

Up to 70% OFF on all Siteground hosting plans
You can host your site on Siteground for as less as $3 per month and still get the best of quality. Sale starts Friday November 28th.
Well, you're getting up to 70% DISCOUNT on ALL SITEGROUND NEW PLANS AND PACKAGES for the first invoice, and this is no joke!
FREE GRATITUDE BONUS
If you Sign Up for Siteground hosting from my link, you also get FREE ONE SIDEBAR BUTTON AD BANNER (125×125) WORTH $75 FOR ONE MONTH ON AHA!NOW. This make the offer doubly worth it! 🙂
It's one of the best ways to highlight and bring traffic to your blog/site.

Check out the Advertise page on the blog to know more about the Aha!NOW Ad banner.
DOMAIN – GODADDY
I purchased all my domains from GoDaddy since I began blogging about 4 years ago. I absolutely do not have anything to complain.
I do not have to look anywhere else. Especially, when I know that GoDaddy offers me the best rates and is 100% reliable.
But I'm envious of its latest Black Friday Deal that it is offering.
Get up to 40% OFF on all new purchases!
If you have a smaller budget, then settle for the 36% OFF deal.
Let me tell you that I always keep track of the deals that GoDaddy offers, and this deal is really good.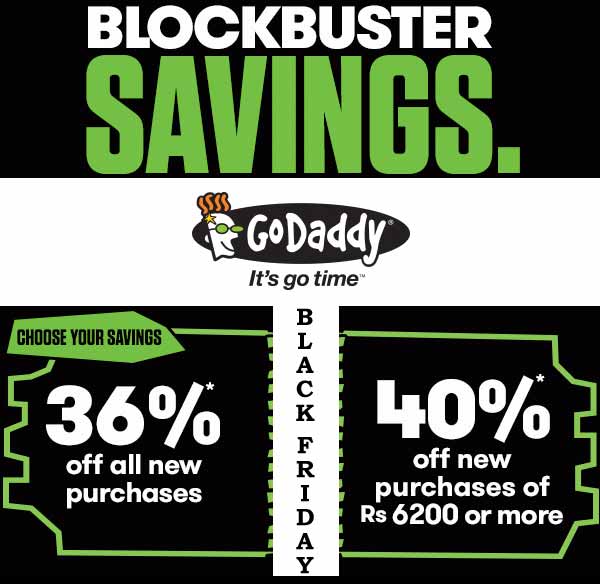 Go For GoDaddy Black Friday Upto 40% Discount Deal
This is a great deal. Go for it!
Remember: Offer expires Sunday, 30 November 2014 (NOT December 1 as the other offers)
SOFTWARE – GRAMMARLY
If you read my post "How To Improve Your Writing Skills in Four Ways", you will find that I mentioned Grammarly as one of the tools or online resources to correct and work on your grammar.
I stand by and reiterate my statement that Grammarly is the best online grammar checker facility you can get.
I'm sure all authors, writers, freelance writers, and bloggers will agree that your articles and post should be fool proof.
Grammarly helps you with its automated proofreader and has the capability to correct 10 times more mistakes than popular word processors.
You can even use it in conjunction with MS Word software. Grammarly gives you advanced spell checking and synonyms facility.
It also helps you in detecting plagiarism and improving your writing skills.
Grammarly is offering a Cyber Monday special  50% off all Grammarly subscriptions.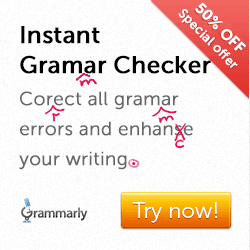 If you ever had your eyes on Grammarly but stopped short of purchasing its subscriptions because of the cost, then this your chance.
Quality products are always costly, but today this quality product comes at half the cost to you.
Make Grammarly your another set of eyes to help perfect your writing. Grammarly is recommended for students, authors, writers, and bloggers.
Try Grammarly (They offer a FREE 7 Day Trial) and if you like it, then it is recommended to go for its annual plan with this 50% Cyber Monday special discount.

I've personally used Grammarly and I highly recommend it.
Remember: The offer expires on Tuesday, Dec 2, 2014.
CDN – MaxCDN
This is my second year that I'm using MaxCDN on Aha!NOW.
You can read about my experiences on one of my posts – "How to Increase Website Speed and Make Your Blog Load Faster"
I used MaxCDN to make Aha!NOW load faster. It has been a good experience.
MaxCDN is offering a Cyber Monday special offer of 3 months off the annual pricing or 25% OFF on any plan. [Don't fall for the 50% Discount claims – I've communicated with MaxCDN and they refute the claims of any such discount this year]
Click on the above link and use these coupons to get 3 months off on the four different plans at MaxCDN during signup.
cybermonday100gb
cybermonday500gb
cybermonday5tb
cybermonday1tb
The coupons are applicable when you go to the Sign up page and choose "Go annual".
Click on this link and use the coupon maxcdncoupon to get 25% off any plan.
***
More Cyber Monday deals Coming soon … Just in a few hours.
Do come back and check for them! 🙂
Meanwhile, view the Aha!NOW Amazon Store with exclusive Black Friday and Cyber Monday offers. Because there is life beyond blogging. 🙂
We would love to have your feedback regarding the new store. Please feel free to share your views and suggestions through the contact form here.
Thanks. 🙂
Disclosure: This post may contain affiliate links, meaning that if you click on one of the links and purchase an item, we may receive a commission (at no additional cost to you). All opinions are our own and we do not accept payments for positive reviews.