Medical marijuana is legal in many states of the United States. If you suffer from a medical condition that requires marijuana treatment, then you need to get a recommendation from your doctor. If you get the recommendation, then you'll be able to register with the state board of pharmacy and be eligible for a medical marijuana card. Here are the benefits of owning a medical marijuana card. ~ Ed.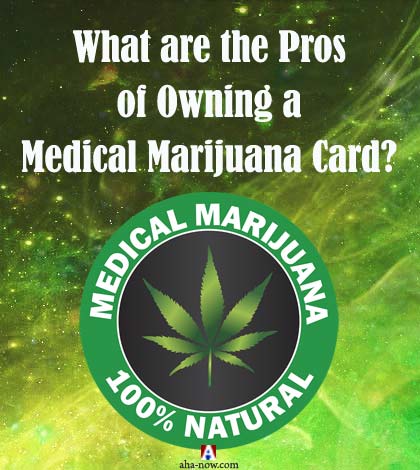 People have been using marijuana medicinally for roughly 5,000 years. Ancient cultures have used this plant as a herbal remedy. It's believed that the history of marijuana cultivation in the United States dates back to the early colonists.
After a long, strange trip, marijuana is finally legal in America. While every state has specific laws regarding the use of medical marijuana, more than two-thirds of the nation have agreed to legalize it for medical treatments.
In the United States, the use of marijuana for medical purposes is legal in 36 states. Ohio is one such example. With overwhelming evidence to support medical marijuana's potential to enhance people's quality of life, state lawmakers agreed to pass the House Bill 523 in the summer of 2016. Pressure is being exerted to include autism on the list of qualifying conditions for medical marijuana. If successful, this would be the very first change to the structure of the Ohio medical marijuana program.
At present, not all licensed dispensaries are licensed to sell adult-use marijuana until 2024. If you have a medical marijuana card, you can acquire marijuana without much difficulty. Getting a medical marijuana card has never been easier. All you have to do is to grab your phone or open your laptop and download your card.
If you're not sure that getting a medical marijuana card is worthwhile, perhaps you'll change your mind after you read this.
3 Reasons Why Owning a Medical Marijuana Card is Useful
You get unrestricted access to high-quality marijuana, you're exempted from individual taxes, and you get stronger legal protection.
Unrestricted access to high-quality marijuana
It goes without saying that not all marijuana is equal. There are significant differences and only a high-end producer can offer high-quality marijuana. If you use marijuana to relieve the symptoms of a medical condition, such as epilepsy, then quality matters.
So, with so many options out there, how are you supposed to know which is the best one? Luckily for you, you don't have to put enough effort into it. If you have a medical marijuana card, you can procure your medical ailment from a dispensary in your state. It has only high-quality cannabis on the stock. It's a lot safer than purchasing marijuana from individual sellers because you don't know what's been added to the product (possibly dangerous additives).
The quality of marijuana that has been developed over the past couple of years is incredible. There has been a substantial increase in the involvement of pharmaceutical companies, whose knowledge has allowed the industry to grow.
With more legal marijuana available these days, it's essential to understand the difference between quality products and lower quality offerings. Well-grown, quality buds have a distinctive smell, indicating the high terpenes content. Most importantly, quality marijuana is green in color. It doesn't have hints of pink, blue, or purple. As far as the bud structure is concerned, the buds tend to be light and fluffy.
You're exempted from individual taxes
States have designed tax systems for recreational marijuana. The aim is to discourage adoption by minors and non-users, even if it impacts the competitiveness of the legal market. They generate meaningful revenue. Recreational marijuana is very expensive, and it's taxed heavily by dispensaries.
If you have a medical marijuana card, you can buy marijuana at an affordable rate. Since you don't have to pay individual taxes, it costs you less. What is more, you can take advantage of deals and discounts. Patients with linked veteran status enjoy a 20% discount. Qualified patients with state-required recommendations to finalize the process enjoy discounted treatment.
If you're unhappy with the high cost of marijuana products, you should know you're not the only one. Purchasing marijuana for medical purposes can turn out to be expensive if you don't have a medical marijuana card. The card helps you cut the tax bill; if you know how it works, that is. If you don't have a medical marijuana card, you can't claim the medical expense deduction as a dispensary would. Medical marijuana isn't a deductible tax expense in the opinion of the IRS. Businesses themselves have to dig through the mounting bills associated with the medical issue and deducting your expenses. Just imagine the time and effort it takes.
Stronger legal protection
Finally, yet importantly, if you acquire medical marijuana from a dispensary, you don't risk getting in trouble. Some states allow residents to use marijuana solely as a medical aid. If you don't abide by the rules, you commit a crime. Consequences include fines, imprisonment, and even treatment for addiction. If you have a state-issued certification, no one can argue with that. To obtain a medical marijuana card, schedule an appointment with your doctor and discuss what's troubling you. The doctor will confirm the qualifying condition and you'll be able to register with the state board of pharmacy. You'll be sent instructions by email on how to activate and download the card.
Federal law doesn't permit the use of medical marijuana just yet, so you understand that having a medical marijuana card comes in handy. You're able to acquire marijuana based on reasonable purposes, so there's no chance of getting in trouble with the law. If you'd like to know more about your rights, it's recommended to consult with a lawyer. They will explain how the card protects against criminal and civil liability. Unfortunately, there have been cases of discrimination against legal cardholders. Nonetheless, it's important to understand that these are isolated cases. And there are laws to protect against discrimination.
Related Read: What Medical Conditions Can CBD Oil Help With
Wrapping Up
To sum up, there are several benefits for medical marijuana cardholders. If you depend on marijuana as an integral part of your health, don't waste any more time. Get your card as soon as possible.
If you're an eligible candidate for medical marijuana treatment, ask your doctor for a recommendation that can be used in your state. Both physicians and nurse practitioners are able to issue recommendations. Therefore, you can ask anyone to assist you with signing up for a state-licensed program.
Don't get your information from friends. It's best to reach out to a healthcare professional. They know better than marijuana vendors. Manage your health holistically.
Over to you
Do you have a medical condition that requires marijuana treatment? What are your thoughts about the medical marijuana card? Please share in the comments.
Disclaimer: The information provided in this article is about medical marijuana in the United States. If you live outside of United States, then kindly contact your local doctor or government public health department to know whether medical marijuana is legal in the country you live in.