Managing is not easy, especially if you've too much on you. If you've too many responsibilities, then it helps if you share them with other people. Amidst all the managerial chaos, you need to keep yourself sane and relaxed. Learn how to make your job easier as a manager so you do not burnout. ~ Ed.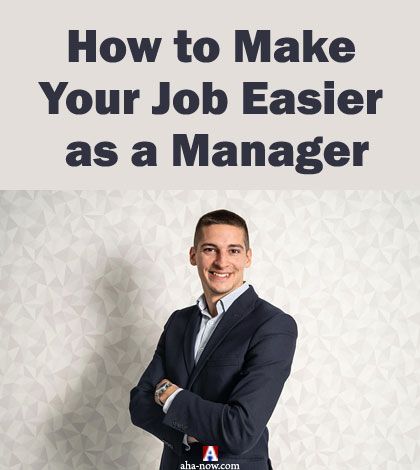 Managers are responsible for the efficient and smooth working of the company or organization. There are many things managers and other higher-ups must consider when they're working.
If you're a manager, then you know how things can go terribly wrong if you're not in the right frame of mind or if things are not organized properly and you do not use the right tools or ideas.
Too many decisions can lead to decision fatigue, or worse, complete burnout. But when your work life is balanced, it can lead to happier employees and a happier you.
Here are five of the best ways to make your job easier as a manager.
5 Best Ways to Make Your Managing Job Easier
Apart from doing everything to keep yourself relaxed, it helps if you have good channels of communication with your employees and train them as per the needs of the job. Here's more that you can do.
Hire Services to Help with Work
As a higher-paid employee of a company, you are expected to take on more responsibilities. However, some of the work can be tedious or overwhelming for a manager to take on.
In these cases, you should consider whether to hire services that can help with your job. That way, you can spend your time doing the most critical tasks.
For example, Scout Logic helps customers with background checks and other hiring screenings. Find other companies to help you out with tasks like background checks and employee searching. That way, you don't waste time that would be better spent on more pressing tasks.
Always Set Goals
Having a tangible goal for you and your employees can help with motivation. These goals can occur over any time you choose, as long as they are realistic and relevant to your company's ability.
When you set goals, consider your employees and where everyone's strengths lie. If everyone can contribute, they will feel like they are making an impact on the company's overall growth, and you will also cultivate a more positive environment overall.
Invest in Training
Your company probably has a training program already in place for new employees. However, most of the time, these programs are not realistic depictions of a job. It is better to spend more time implementing thorough, personalized training.
Training makes employees more secure in their position. It also puts you at ease, knowing someone will be able to get a job done correctly. Then, they can also feel happier knowing a manager trusts them to work diligently. It is a win-win!
Give Constructive Feedback Often
A good manager knows how to communicate. Make sure you give feedback to your employees regularly. That way, they will always know how they are performing, and nothing will come as a surprise.
You should give both positive and constructive comments when you are evaluating someone. This way, people are encouraged to continue good habits while being aware of their errors.
It is best if this relationship is reciprocal as well. Encourage others to give you feedback, so all lines of communication are open. You must always learn and grow as a manager so you can adapt to every situation with ease.
Take Proper Breaks
Always take proper breaks during the day. If you are running low on energy, you won't be able to perform to your best capacity.
Establish a recreation area at work, or leave the office entirely on breaks to relax your mind before heading into the office again.
In Conclusion
These five tips are designed to help you organize your workday easier. It can be stressful to manage your time, as well as all your employees.
Making sure you have the right tools and ideas as a manager can keep your workplace positive and more productive for everyone.
All these tips have to do with caring about your employees in some way. You should strive to care about everyone you work with genuinely.
Supplying the right training, tools, and advice on the job is just the beginning – knowing who they are as people is key to making strong work relationships!
Over to you
If you work in the capacity of a manager, how do you make your job or managing easier? Share your experiences and tips in the comments section.