You'd need a harness to keep your small dog under control. There are different types of harnesses available in the market that suit different kinds of small dogs. You need to choose the one according to the size and type of your dog. Here are more tips about how to choose the best harness for your small dog. ~ Ed.
Some small dogs come with big personalities.
Their diminutive-looking stature might fool you into thinking that your tiny pup gets tired quickly. Instead, it might lead you around the house for hours.
But, it's this energetic demeanor that draws you into loving your pet. However, you may need to control "Fido's" overactive behavior at times.
You need the best harness for small dogs to help you achieve that goal.
Here are three tips to help you choose the ideal harness for your tiny pooch.
3 Main Tips for Choosing the Best Harness for Small Dogs
If you're going to purchase a harness for your small dog, then make sure that you get the right size of the right type of harness that suits your dog. Most importantly, buy it from the right place.
Choosing the Right Size
The effectiveness of a dog harness depends significantly on the size of your dog.
You might be unsure if your pooch is in the small dog category. You can check your dog's size by measuring its size and weight.
Small dog breeds tend to be in a 2-to-22-pound weight range. Also, these dogs tend to have a 6 to 45-inch length from the shoulder.
Unfortunately, some harnesses don't include the size in inches on their labels. So, you may need to bring "Fifi" along with you when you're shopping for the best harness for small dogs. But, that option might not be a possibility if you're buying online.
Check the product's description when you're buying a dog harness from an online retailer. Still, some online suppliers of dog products only show the size of the harness in letters. Here's a quick guide to help you choose the right harness size for your pet:
Extra Small (XS)
Ideal for 15-to-20-inch dogs like Chihuahuas and Yorkshire Terriers.
Small (S)
Best for 20-to-28-inch dogs like French Bulldogs and Maltese Terriers.
Large (L)
Excellent for 28-to-35-inch dogs like Australian Shepherds and Miniature Schnauzers.
Extra Large (XL)
Any dog larger than the Large category is in this class. A few examples of Extra Large dogs include Dalmatians and Labradors.
Choosing a small-sized collar should fit most small pooches. But, you still need to consider the size that best represents your dog.
Select a harness that's too small, and the tool can suffocate your poor pooch. If it's too big, then the harness will fall off easily.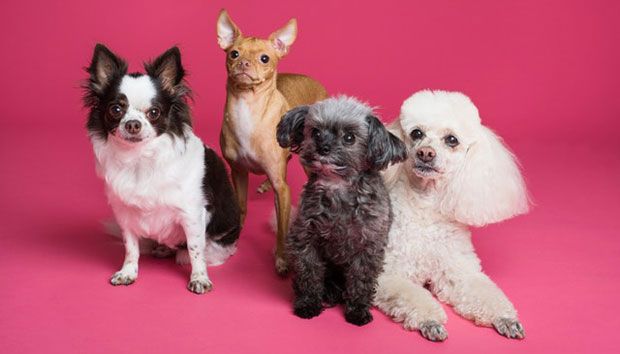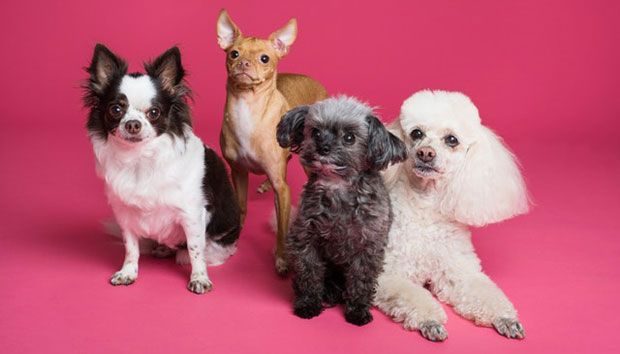 Choosing the Right Type
Different harnesses exist on the market, but manufacturers create varying models to fit your pet's behavior. You'll find the different types of small dog harnesses you can find:
Back Clip Harness
You may find this dog harness to be relatively standard on the market. As its name suggests, you'll attach a lead to a hook connected to your dog's back.
Since the connector is at the back of your pet, there's no strain on your dog's neck, unlike a traditional collar. So, if you need to pull back on the lead, like when you're trying to control your dog as you cross streets, you won't risk damaging your pet's trachea.
A back clip dog harness might also be an ideal option for pups that like to wiggle out of collars. This type of harness should come with secure belts to keep the tool in place, despite the possibilities of excessive wiggling.
Front Clip Harness
This dog harness lets you attach a lead to your pet's chest instead of its back. This model is famous for dog-training exercises since it helps lessen your dog's desire to pull.
Pulling back on a lead during a walk tends to make the pet pull you. But, if you want to assert authority, you need to be at the front or side of your pet during walks. A front clip dog harness will help you achieve that objective.
Also, this harness is ideal for distracting your furry four-legged friend from hazardous objects.
However, some small dogs may have more energy pools than you can handle. The lead attached to this harness can get tangled because of the tool's position on the dog's chest.
You may not need a new harness if that scenario happens. Instead, consider replacing your lead with a shorter model.
Sling Harness
If your dog has a disability or injury, it might be challenging to give them walks. Walking is an essential component of any dog's health. But, specific scenarios might make it challenging for your pet to move appropriately.
A sling dog harness will help your small dog improve mobility when it has a physical ailment. This tool supports your dog as it walks to help your pet maintain proper movement despite its current condition.
Anti-Traction Harness
While the sling dog harness helps your small pup with mobility, the anti-traction harness is the opposite. This model is ideal for more energetic pooches.
Harnesses with anti-traction systems help direct the dog's head to remain upward instead of forward. This tool helps stop the forward movement to allow you to stay in control without putting too much strain on your wrists.
The type of harness you choose should fit well with your dog's personality. The right dog harness can also help train your pet to be obedient, especially in crowded areas.
Consider Other Essential Factors
Buying harnesses for small dogs need you to acquire the product from a trustworthy supplier. Check the shop for certificates of legitimacy to know that the supplier has the legal rights to operate its business.
Also, if you're buying the harness online, find the text for the Consumer Contracts Regulations as it allows you to cancel the purchase you bought up to 14 days after the confirmation of the payment. But, you need to notify the retailer within this period if you want to cancel the purchase.
You can also return the dog harness to the retailer, but that might not be possible for all pet suppliers. Ask the seller if they allow returns. For example, the small dog harness you bought has damages that make it impossible to wear on your little pup.
Some dog gear retailers will also allow the returns of harnesses with the wrong size. But, this predicament might be primarily due to the buyer making the wrong choice. Specific retailers will accept a replacement of the product with the right size. But, other sellers will deem this sale as final, which means they won't accept returns due to the purchase of the wrong size.
Related Read: How to Become a Responsible Pet Parent
Parting Words
Buying the best harness for small dogs needs you to consider specific factors to ensure that the tool fits your pooch properly.
Consider your pet's size and personality while choosing the right harness. Also, make sure that you're buying the product from a reliable seller.
Remember, the purchase of the right harness should satisfy both you and your dog.
Over to you
What factors did you consider while choosing a harness for your small dog? Share your tips and experiences in the comments.