Believe it or not – a healthy heart is one of the keys to happiness in your life.
That's right, if your heart is in a good shape, you're not only likely to live long, but also love more and appreciate all the good things in life.
Many people are ignorant and they do not know how their actions affect their heart.
They indulge in substance abuse like smoking and heavy drinking. They live a sedentary lifestyle that mostly involves sitting or lack of physical exercise and movement.
That is why sometimes sitting is considered equivalent to smoking.
"Did you know that your heart does the maximum physical work of any muscle during a lifetime, beginning from just after a month of conception?"
Your heart also beats about 100,000 times in one day and pumps around 1 million barrels of blood during an average lifetime.
Don't you think this hard working organ of your body needs more attention and care?
Trust me; you would not want to suffer from a cardiovascular disease at this age! I know I wouldn't 🙂
Sad to say, but about one American dies every 40 seconds from cardiovascular disease. This is not only alarming, but also shocking.
If you already knew this fact and aren't still doing anything to improve your heart health, then it is surely devastating.
So, before it's too late, let's identify the risks and learn how to have a healthy heart.
Major Risk Factors For Getting Heart Disease
Prevention is better than cure. However, first you should know what all to prevent.
Here is an infographic from another AHA, and that is American Heart Association.
This gives you an insight into the major risk factors that you could have, besides the factors that you can prevent, and the excuses most people make that stop them from having a healthy heart.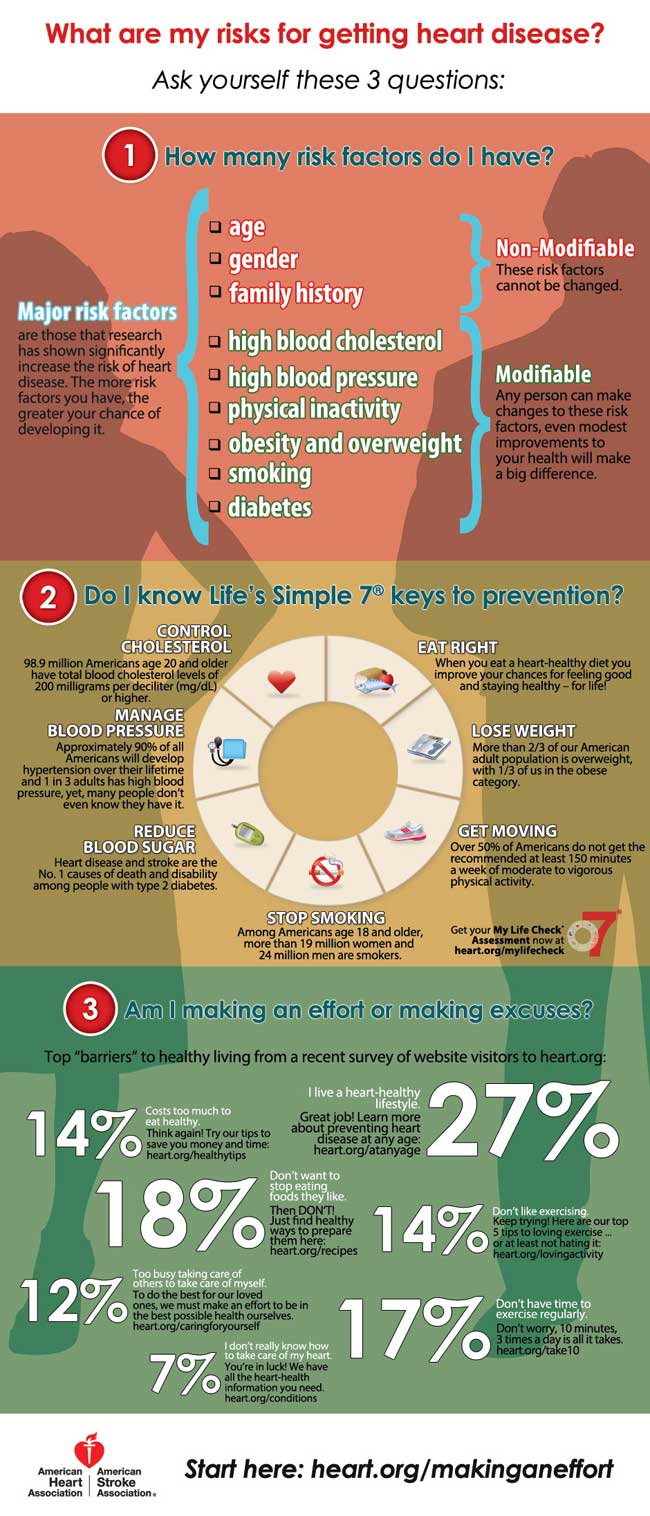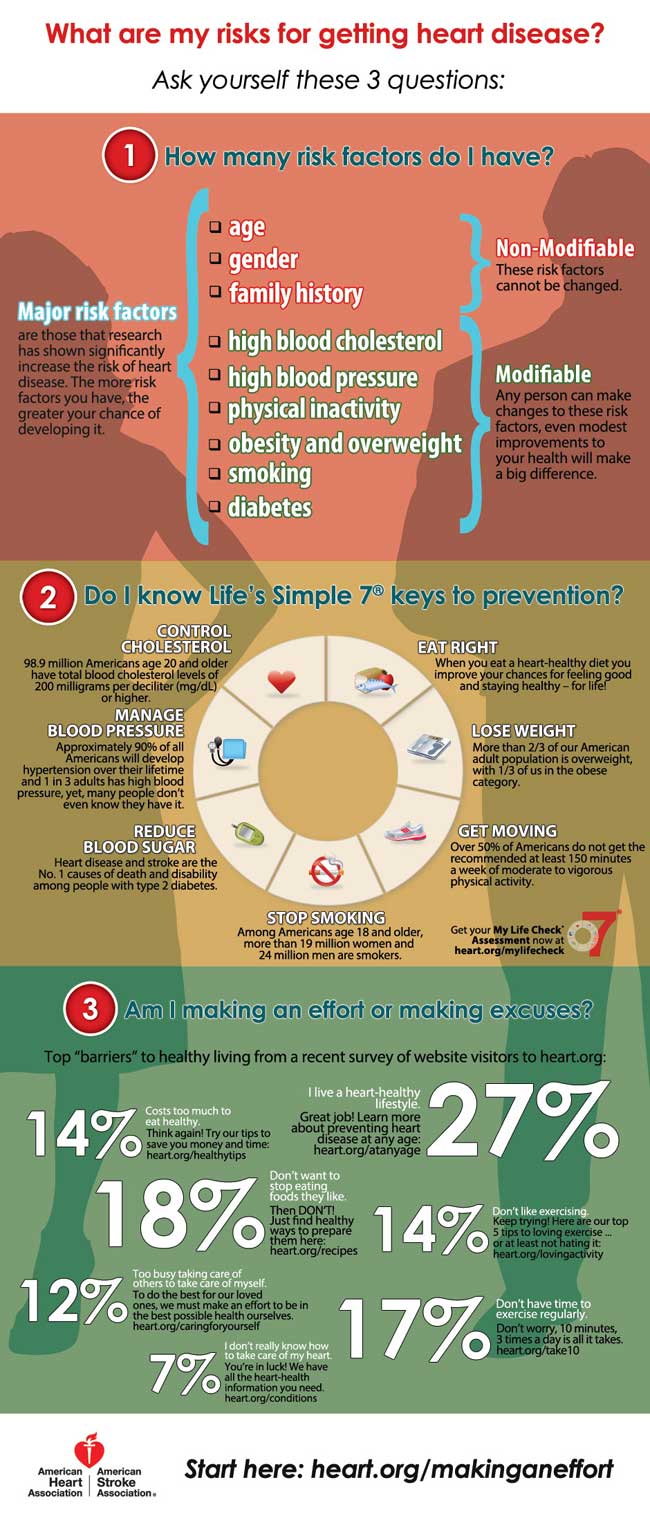 Source : Heart.org
As you can see, majority of the risk factors that can hurt your heart health can be prevented – the answer lies in your hands.
These are risk factors along with the preventive options:
High blood cholesterol – Eat right by having a balanced and healthy diet. Your fasting blood glucose should preferably be less than 100 mg/dL.
High blood pressure – Manage blood pressure through exercise and medications. Keep the numbers below 120/80 mm Hg.
Physical inactivity – Get moving and stand more. Spend 150 minutes of moderate intensive activity per week, like brisk walking. And opt for 75 minutes of vigorous-intensity activity.
Obesity and overweight – Lose weight to find your healthy weight. Target a Body Mass Index (BMI) of less than 25.
Smoking – Stop smoking altogether, quit it. Your alcohol intake should be within limits too.
Diabetes – Reduce blood sugar by being conscious and careful of your food and beverages intake.
You will be surprised to know that lowering the risk of heart disease also reduces the chances of getting cancer!
One good thing that comes out of this infographic is that about 27% people live a heart-healthy lifestyle.
All this information would help only if you take some positive steps towards taking care of your heart.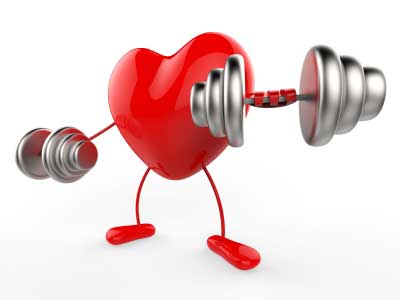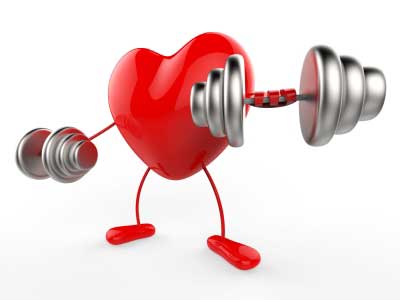 7 Healthy Heart Tips to Prevent Heart Disease
Nothing is impossible, and preventing heart disease is certainly possible.
The most effective tips to have a healthy heart are to eat healthy, be active, and stop smoking.
If you successfully implement these three tips, you secure your heart and safeguard your health.
"Did you know that cardiovascular disease (CVD), which includes heart disease and stroke, cause 17.3 million deaths worldwide each year that makes it the world's number one killer disease?"
Here are some tips to take the preventive steps:
Focus on eating a diet of whole, unprocessed foods from healthy, sustainable sources

. Avoid high in–take of saturated and trans fat, sugar, and salt.

Eat more green vegetables and fruits

. Also, have enough high-quality animal-based omega-3 fats.

Exercise regularly

. It includes playing outdoor games, taking the stairs, doing household chores, standing, walking, and cycling.

Manage your stress

through meditation, prayer, social support, and emotional psychology tools.

Optimize your vitamin D levels

. A little exposure to sunlight everyday is good for you. Besides, maintain your body's magnesium, potassium, calcium, and B vitamins levels through the intake of fruits, vegetables, dry fruits, and dairy products.

Have a good night's sleep

and complete your daily quota of high quality, restorative sleep.

Drink plenty of water

. Water absorbs into the bloodstream quickly and prevents coagulation by thinning the blood.
There may be more healthy heart tips that probably you know and can add to this list.
I want to let you know that 29th September is the World Heart Day.
This day is celebrated all around the world, as the awareness to keep your heart healthy and adopting good habits is most important because the deaths resulting from CVD are more than the deaths from many other major diseases put altogether.
Celebrate the World Heart Day by adopting healthy heart habits and spreading its awareness. Bring happiness into your life by healing your heart and keeping it healthy.
So, are you doing your bit?
Share Your Thoughts –
What do you do to have a healthy heart? What risk factors do you have and what preventive steps do you take to avoid heart disease?
Photo Credit: FreeDigitalPhotos