If you want to increase the chances of generating more revenues, you need to promote your business in a good way. While there are offline ways that you can use, SEO and social media tricks can help create more popularity and awareness of your business online. You can even use the offline medium to get more eyeballs on your online website and social media! Learn some tips and profit from them. ~ Ed.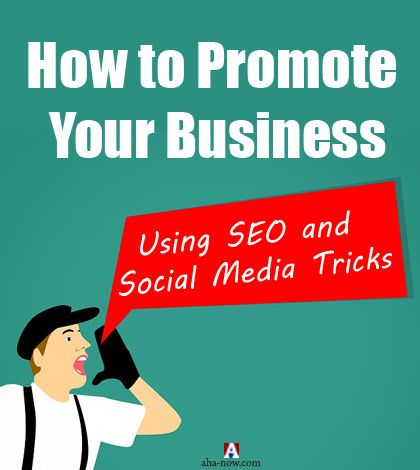 Making the most of social media for personal goals and leveraging SEO tactics for business purposes are two of the most frequent topics for bloggers, professional journalists, and how-to books.
What you rarely read about is how these two topics overlap and feed into each other in strange, unexpected ways. Plus, there are newer niches of each that rarely get much attention online or anywhere else.
Here are four ways that people are using social media and SEO in more targeted, powerful ways.
4 Basic Ways to Promote Your Business
Do you know you can repurpose your old written content on your blog or website to bring new customers? Know more ways to promote your business.
Promote Offline
Look at the net effect of all your social accounts. What percent of current promotions do you do online? If you are like most people, the answer is 100 percent.
The most overlooked method of increasing the number of eyeballs on your pages is offline promoting. That usually entails things like business cards, using personal networks of friends that you regularly socialize with, making a dozen phone calls per day to companies that should know about your social media sites, and even printing clever bumper stickers emblazoned with memorable graphics and direct links to your pages.
Consider also there are marketing pros who specialize in offline promoting. That's how big of a niche it is. And, if you're currently doing none of it, it's time to get busy.
Use Intent SEO for Promotion and Profit
When you want to bring new customers to your commercial website, intent SEO is the most effective, time-efficient way of doing so. Why? Because the entire concept behind it is about honing in on customer desires rather than general topics (keywords).
For instance, if you sell tax-prep services and rank so-so for keywords like "tax prep" and "tax returns," consider adding intention modifiers to each of the terms. Using "find tax prep" and "file tax returns" are good examples of using intent SEO to narrow down your keywords and make them work harder.
Not only can intent SEO multiply revenue for your company, but you can also easily locate good resources online and learn how to apply the principles. Done right, the technique will rank you ahead of competitors and enhance profits.
Repurpose Everything
Chances are, you have some old written content, a few videos, and maybe even an e-book or two that no longer bring new customers or followers through the door. The trick to re-animating old blog posts, books, articles, and clips is to re-purpose them.
How it works is to say your video channel includes a 20-minute piece on how to refurbish old furniture. If it only exists as a video, you're wasting its potential. Something like that can gain new life as a short e-book (which you can give away to customers or followers who ask for it), a series of blog posts, or a how-to graphic.
Think of everything on all your sites as intellectual property that can be multiplied and produced in several formats.
Interview Industry Pros
People love to read interviews. Identify three thought leaders in your niche and ask if they will answer a 20-questions style email you send them. Make clear that you will use the piece on your social media or commercial sites.
You will rarely be turned down, and if you include a few photos with the pieces, you will attract plenty of followers or customers, depending on how you use the material.
Summing Up
It is imperative to promote your business. You can use offline and online ways to do so. Some offline ideas are using business cards or bumper stickers. These help to direct people to your business website or social media sites.
You can promote your business online using intent SEO, interviewing thought leaders, and even repurposing your old content online.
Use these tips and tricks to get more attention and generate more awareness of your business online ultimately increasing your revenues.
Over to you
Have you used these ways to promote your business? If you have more ideas, share them in the comments section.