If you're renting a home for the first time, you definitely should do some homework. Renting a new home may require you to consider many factors before signing a deal. These factors may range from dealing with the background checks, checking out if you could do any modifications or alterations, and most importantly, your budget. Here's a list of things that you should consider first before finally taking a new home on rent. ~ Ed.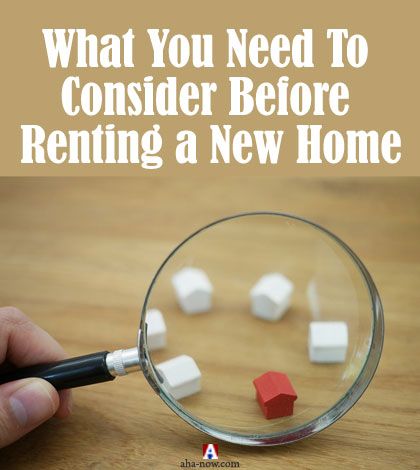 When you're renting a new home, opportunities can be seemingly endless. It can make your decision feel like it has a lot of weight when you factor in that this is one of the most important investments you'll be making in your life.
To help you avoid multiple headaches and hassles as you're trying to rent a new home, I've created a guide with the most important things people need to take into consideration.
8 Things to Consider Before Renting a New Home
Besides considering your budget, you need to make a careful assessment of the property, consider insurance arrangement, and many other factors first to avoid regrets later.
Expect a Background Check
Unfortunately, there is more to renting a house than having the cash to do so. If you have any unchecked business in your past, with the government or banks or any other entities, you shouldn't put it ahead of you to hear of bad news.
Similar to employment background checks, it's recommended that you try to get that business squared as soon as possible to avoid having it looming over you like some kind of a comical rental-blocking shadow.
Before you apply for the background test, ensure that nothing has the potential to make it a negative report. If you're not renting the entire house, you may still be required to apply for a tenant screening report. These reports can also show the owner your financial responsibility in previous endeavors and credit history.
Consider Insurance Arrangement
There are different variables included in insurance arrangements for renters that you must be aware of. If you are renting a property, then you don't have to include the physical structure of your rental property in the insurance.
According to this website, renters can get coverage for a range of disasters including fire & smoke, storm, and flood damages. It's important to familiarize yourself with common insurance mistakes for tenants, especially first-timers to avoid any obstacles that they might stumble on.
For example, underinsuring is a worldwide problem that is more common in Australia. To avoid these types of problems, make sure to invest some time and effort into calculating the exact level of coverage suitable for your situation and needs.
Budget
Searching for a house to rent without a detailed financial plan is one of the biggest mistakes first-time renters often fall into. Setting a reasonable range for the money you can spare on renting a house will not only give you an idea of how much you can afford, but it will also limit your search pool.
Creating a budget will also help you in avoiding any financial problems you might run into, especially during your first month. Don't forget to pay attention to what your landlord includes in the rent from utilities, cleaning fees, to other costs that might be covered.
If bills aren't included, then you need to consider them while you are creating a budget. Make sure to dedicate some cash on the side in case your bills turned out costing more than you have calculated.
Careful Assessment
If you are moving to another state with different weather conditions, then you need to pay attention to certain aspects of your property.
For example, viewing a unit in the sunshine is completely different than its state in the winter as it might be damp or moldy and vice versa. If the place you are considering is well-insulated without an efficient HVAC system, then you might face huge troubles in the winter months due to the lack of ventilation.
These factors might not seem important when you are in the middle of the whole moving fiasco; you might be tempted to overlook them completely. However, when things have settled, you will find that they are extremely important for comfortable living conditions and the overall quality of life.
Sharing Economy
One of the little details a lot of new renters may overlook when they're renting a new home is whether there are any restrictions when it comes to subletting the home.
A very common strategy for home renters who would like some side income on the side is to use a sharing economy to procure short-term tenants. This can even enable you to take a bigger and better home than the one you would've originally taken.
But it's important to understand that there is some local legislation that blatantly refuses short-term rentals, not to mention that most leases may prohibit you from doing so.
Ask About Permissions
When you're renting a new home, it may not instantly come to your mind to ask the owner, whether you're allowed to make certain modifications in the house. Naturally, there are some modifications that owners would specify their eligibility, but this term may be written in the lease.
This is why it's much safer to directly ask the owner about the kind of modifications and alterations you're allowed to do to your home; they can even allow you if you persuade them in a good old home negotiation.
Cleaning Services
When it's the right time to start moving into your new home, you may want to talk to your landlord about the availability of bringing in your own cleaning service providers.
You can reduce the upfront costs that are a part of your security deposit when you use your own cleaning crew because it will be on your terms and suitable for your budget. If you can still possibly divert some of the security funds back to your pocket, you should probably hire your own cleaning crew.
Know If the Landlord Wants to Sell
When you're renting a new home, you know that your stay can be extended if you like it. But that possibility can be easily decimated if your landlord decides that they want to sell the house.
Naturally, the lease protects you for the duration of your stay, but you'll want to make sure that there are some important elements mentioned in your lease before you sign the contract. Make sure that the lease presented covers you from sudden rent increases or selling the house on short notice.
Wrapping Up
The joy of renting your first home is incredible, but it can be easily offset by the myriad of factors you need to take into consideration before you take such a big step.
The housing market can be overwhelming if you're not really used to it. Fortunately, you can always learn from experience, but it's still better to do your homework before you venture into your new home.
Over to you
Have you ever rented a home? How has your experience been? Share them and your tips in the comments to help those who are renting a new home for the first time.