You must be wondering that I always write about life and living, then why all of a sudden I'm writing about death and the dead in my post.
Well, today's post is to touch upon a deeper issue, to remember the saints, martyrs, and your departed loved ones.
Recently, most of the major religions celebrated the ritual of remembering and worshiping the dead.
I'm more interested in the underlying meaning and roots of these rituals. I believe most rituals start for a reason, and sometime, somewhere, they lose their meaning.
If you remember, I'd earlier written about the ways of dealing with the loss of a loved one, where I'd mentioned all about understanding death and how you can cope with death.
Most religions believe death to be a part of life, and teach you how to treat your departed loved ones.
Why Remember the Dead
Not everyone likes to read or talk about death, but death is inevitable. Eventually all your known ones, including you and me are going to die.
However, should you completely forget your loved ones who're dead and take them out of your life? Would you want to be forgotten after you're gone from this world?
Most of you want to be cared, loved, and remembered while living. That's the best form of appreciation. This is the way you should treat others even after they're gone.
But that does not mean that you've to be sad, revive your sorrows, and cry about the loss. It's all about appreciating the goodness of the departed person and expressing your feelings of gratitude.
Whether you believe in an afterlife or not, I'm sure that you'll agree that you need to be grateful to the departed ones for their efforts to love and care for you.
Even if you wanted to, you cannot remember all your departed loved ones all the time. Doing so might affect your life and work adversely.
Ancient people came up with a solution to assign particular days to pay gratitude to the dead that were once part of our family.
This included the ones whom you've never met, because in some way or the other they are responsible for the gift of life that you possess.
Just like you've father's day, mother's day, you also have various days to remember your dead ancestors.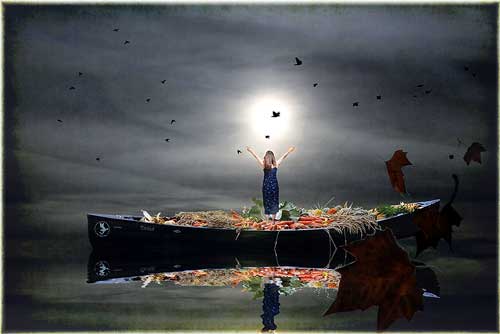 Rituals for the Dead
Almost all major religions believe in life after death, and that the souls or spirits need to be remembered and thanked.
Jews observe Yizkor to offer prayers to martyrs and for departed family members.
Hindus have a fortnight period called Shraddha or Pitru Paksha, where they offer food and prayers to keep the souls of their ancestors at rest.
The Chinese and other East Asians Buddhists celebrate Yu Lan or the Hungry Ghost Festival, where they pay homage to the deceased ancestors, who visit the living on the Ghost Day once in a year.
Japanese Buddhists celebrate the festival of the dead in form of Bon Festival. Even the Incas of South America used to have a dedicated month to honor the dead.
On the other hand, the ancient Egyptians and Romans too had special ceremonies as their way of respecting the dead.
Day of the Dead, with its roots in the ancient Aztec culture, is celebrated in Mexico to pray for and remember departed family and friends.
The festival of Samhain upon which the modern Halloween is based, is where the dead are thought to return to the living, who offer them food and light.
And, of course, Hallowmas of Christians that includes the All Saints' Day and the All Souls' Day for remembering the martyrs and the saints.
There may be more examples of rituals for the ancestors, but the question is why do we have them?
Why Should We Have Rituals for Remembering the Dead
Don't be surprised if I say that having rituals for the dead is good from the health and psychological point of view.
Well, rituals are ceremonies, practices, and habits that you create to take care of yourself and to love and live the right way.
Most rituals form after hundreds of years of consideration and observations and serve us as automated guidelines to avoid pain and suffering in life in the long term, and provide support and strength.
As discussed earlier, the rituals of remembering the dead help you to be thankful and in many ways be at peace with yourself and the world. Here are some of them:
• Even after the initial burial and cremation rituals, the bereaved don't completely get over their grief. Days to remember the dead after a considerable time of death of the loved ones help to flush out the pent up feelings.
• Such occasions also help you deal with your feelings of guilt of not having done enough for the loved ones who died. It's better late than never, and days of remembering the dead are an opportunity for closure, if you didn't have them earlier.
• Depending on your religious and spiritual beliefs, you may feel good after having offered your best of gifts, thoughts, and feelings so your loved one feels good too, if you believe in after life.
• Release of your feelings may act as a catharsis, open up your emotional blockages, and even reduce the tension in your body so that you feel light and happy.
• In the event of death, the bereaved family gets huge support, but they're often left in isolation soon after. Days of remembering the dead give a reason for all the bereaved to come together and give them solace. They feel that they've others with them in their journey of recovery.
• It's an honor to remember someone who contributed to your happiness, to the society, or to the nation in positive and constructive ways, or even otherwise. It's time to be grateful and make the contributions of the departed person worthy and respectful.
• Your loved one or departed soul spent or gave his or her life directly or indirectly for your benefit and betterment. You owe at least a remembrance and a reason to be thankful for. You know you cannot be thankful enough because of your duties and obligations, but following the ritual you can at least console yourself that you didn't forget.
There can be numerous reasons why rituals help you perform your duty to honor and respect the people who matter to you but have gone away from this world. And, there are many ways to do that.
How to Honor the Departed Ones
Whatever you do with your heart and good intentions – is good. Choose a way of remembering your loved ones in a way that suits you. You may do so by:
• Visiting places that served special memories between you and the loved one.
• Preparing dishes that your loved one liked and enjoyed.
• Plant memorial plants and nurture them.
• Have special messages published in the newspapers or magazines.
• Create a photo album or a family video to remember the good times you shared with your loved one.
• Go to your place of religious worship and offer prayers, light a candle, or ring a bell.
• You can donate food or money on anniversaries or specific days or remembering the ancestors?.
• Visit the grave of the departed family or friend, which itself is an indication of how much you care.
The list is endless as you do many things to honor your loved ones in ways you think are best.
Moreover, you don't need any specific day like an anniversary or a day for remembering the dead as specified by your religion.
You can feel the love and display your care and respect for your departed ones on any day and at any time. It should make you feel better without becoming an obstacle in your daily life or work.
The fact is that you need rituals to express yourself and channelize your emotions. You need rituals to understand events and your own self.
Rituals help create order in chaos, a system for management, a reason to create rhythm in life, and connect to those who've come and gone before you or during your time.
Rituals are important in times of distress, and when you feel helpless and lonely. They guide you to do the right thing in a the right way, if you've no one to guide you.
Having said that, some rituals corrupt with time as people change them, or they might sometimes add their selfish motives and make them biased.
Rituals that create more problems and seem senseless with the changing times should either be changed or abandoned.
After going through the post, don't you feel you should be honoring and respecting your elders while they are still alive, and honor them once they are gone?
Over to you –
Have you ever tried to follow a ritual to remember the dead and honor the ancestors or departed loved ones? How do you do that? Share your ways of honoring in the comments below.
Photo Credit: FreeDigitalPhotos,  AlicePopkorn
(Note: The next post will be on 19th Nov – a special one for Men's Day, so stay tuned everyone. I'm just taking a few days off travelling with my family.)