Choosing a gift for your loved one is not easy, especially when you've got a limited budget. The best way then is to be a little creative and surprise your loved one with gifts like a book of memories or even a romantic Sunday breakfast! More than money, it's your love and sentiments that matter. Here are some surprising gift ideas for your beloved. ~ Ed.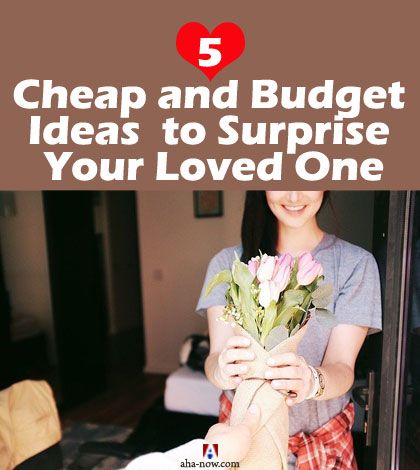 You feel butterflies in your stomach and you want to shout to the whole world that you love the person next to you. If it is early in the morning, it is better not to do it, otherwise, you will wake up all your neighbors. 🙂
However, if you're still wondering how to surprise your loved one, then this article is extremely suitable for you.
If you have a budget, the options are many – jewelry, branded watches, perfume, or dinner in a luxury restaurant, and why not an exotic trip? In case you are pressed by a limited budget, on the other hand, things are not so easy and you will need creative gift ideas.
Is it possible to surprise your partner with a gift that doesn't cost much or even nothing?
Yes, I firmly believe that kind gestures, in which attention and love are invested, do not lag behind expensive gifts and surprises. That's why I have prepared some ideas to make your loved one feel special.
5 Special Ideas to Surprise Your Loved One That Too Within Your Budget
Ever thought of creating a book of memories or making a decoupage gift? Don't worry; here are more creative ideas to surprise your loved one.
Put your happiest memories in a frame
Your phone is probably full of folders with hundreds of photos of you two, in which you have captured happy moments spent together. What could be a nicer gesture than to print a few photos in which your love has taken over and put them in a beautiful frame to decorate the shelves in the living room?
You can buy a frame for 5-6 photos or make one yourself. It all depends on the dexterity, the time you have, and the funds as well. Of course, if you put your diligence and creativity into a handmade photo frame, you will make the gift even more special.
However, if creativity is not among your strongest qualities, we advise you not to waste time in cut-outs, but to go to the nearby photo and get everything you need.
Give a bouquet of flowers
Flowers are a universal way to express your feelings to your loved ones. Even a single flower can say more than a hundred words. And not everyone is a born poet, though.
Whether you have a special occasion to give flowers to your loved one or you just want to express your love and affection for them with a kind gesture, this is a great way to do so.
Choose your partner's favorite flowers and send them to the office right now. And nowadays, it is now possible to get your flowers delivered today. TodayFlowerDelivery, for instance, is an online flower shop which provides flower delivery service nationwide, and express delivery is sure to make your gift even more heart-melting.
Decoupage – a fresh idea for a beautiful surprise
Decoupage is a real art and is a suitable gift if your partner loves handmade gifts and art.
The decoupage technique is gluing a thin paper on a different surface. The paper is attached with special glue and decoupage varnish. There are different types of gifts with decoupage techniques and each of them is completely unique – it depends on what materials you choose to create it.
Furthermore, you do not need a large amount of money to make a decoupage gift. Decoupage can be done with a photo, picture, or even with flowers. Search online for detailed instructions on different types of decoupage. In the trade network or the nearby bookstore, you can find all the necessary materials that you will be able to use in the future.
With the decoupage technique, you can invest all your creativity and create something special for your loved one. What better gift than the one in which you have invested imagination, emotion, feelings, and work?
Create a book of memories
The romantic gestures that always delight lovers are attention and diligence. To make the most of both, make a book of your love.
In it you can put everything that is important to you – from photos, concert tickets that you have saved, cards, a poem or lyrics of your favorite song, and why not a fun story of memories from your trip? When you collect all these little things you will create something personal and extremely romantic, which will definitely impress your dear one.
To make the book of love you will need a notebook or photo album, which can be easily found in almost any store. Everything else is in your imagination. Just add a pinch of love and give them a book full of memories, in which all your unforgettable moments will be gathered together.
If you don't like the book decorated as a memoir and you find it too trivial, you can transform the idea and prepare a box of memories. From the nearby neighborhood store, you can buy a beautiful wooden box or a velvet chest in which to carefully arrange the history of your relationship.
Prepare a romantic Sunday breakfast
Even if you have not watched all the seasons of the numerous culinary shows that are broadcast on television, you can certainly cope with this task. But first, it's a good idea to think about your partner's taste preferences.
Although there is probably no person on the planet who does not flinch at the sight of pancakes on Sunday morning, you can bet on something more unusual such as cookies or sweets, for example. On the other hand, however, we will find out if these dishes seem like aerobatics in cooking.
Not everyone is a god in the kitchen, and not everyone has plenty of time. We believe, however, that you will be able to prepare a few scrambled eggs and crispy bacon. To spice up the breakfast with a pinch of romance, use heart-shaped molds in which to fry the eggs.
You can find them, as well as all other preparations for the recipe "unforgettable Sunday morning" in the nearby supermarket. Here is another significant positive, once you get heart-shaped molds, you can use them for the next romantic Sunday breakfast or in another case, when you have already gathered the courage to make sweets.
Summing up
All these surprises would be a perfect addition if you take your partner to a sentimental place or city for both of you.
No matter if you choose to send them a flower bouquet or prepare a romantic Sunday breakfast, remember that love itself is what will make it special. And keep in mind that the most valuable things are not bought with money.
Over to you
What was the last surprise that you organized for your beloved one? Feel free to tell us your stories and ideas in the comments below.