One fine morning you wake up to find that the world you live in has changed. Companies, industries, and offices have closed down. Nobody is allowed to travel. You're confined to your home and the social life has been drastically curtailed.
It's a bigger shock when you realize that this is not a dream. It's happening and everybody is freaking out.
What do you do then? How do you compose yourself and face the dreaded reality? What lessons does such a situation teach us?
We all have gone through this ordeal in the year 2020, which has been termed as the Year of Pandemic. COVID-19 has caused havoc and forced us to change the way we live and work.
While most of us have sailed through adapting to this new situation using our inner strength, courage, and resilience to bounce back; some have not been so lucky.
We all have learned some lessons from these turbulent and unanticipated times that will help us to face any such unprecedented crisis in the future.
In any eventuality, it helps to believe in yourself and be optimistic that things will work out if you make positive efforts. Health and family have emerged as the prime areas to focus on in life. Self-improvement and mindfulness have become more meaningful in our pursuit of survival and to become successful.
Here are some quotations about the life lessons that we have learned this year. As we step into a new year, let's understand their importance for a happy future.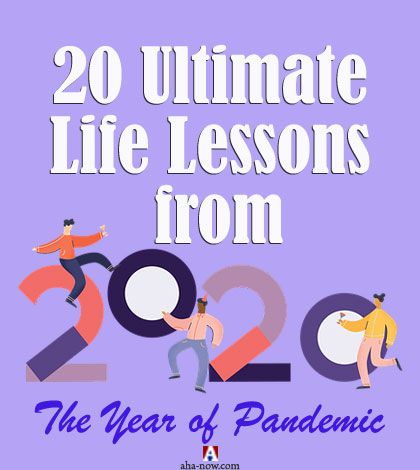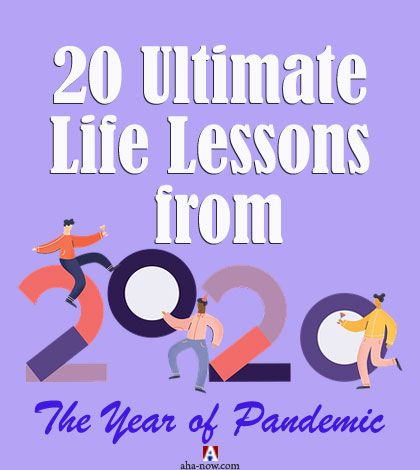 Life Lessons Quotes from a Year of Pandemic 2020
These inspirational quotes from the experts and the masters will help you learn the lessons of life to face any challenges and be successful in life.
Accept there is uncertainty
Anything can happen at any time. Be prepared for any eventuality. Don't panic but face it. Fear and worry are natural outcomes – use your confidence and optimism as antidotes.
Sticking with that uncertainty, getting the knack of relaxing in the midst of chaos, learning not to panic—this is the spiritual path. ~ Pema Chödrön
Anything can happen to anyone at any time and you shouldn't just live through the days, or you lose them. You should do what you can to enjoy every moment. ~ Sarah Brightman
Human spirit is the ability to face the uncertainty of the future with curiosity and optimism. It is the belief that problems can be solved, differences resolved. It is a type of confidence. ~ Bernard Beckett
If uncertainty is unacceptable to you, it turns into fear. If it is perfectly acceptable, it turns into increased aliveness, alertness, and creativity.

~ Eckhart Tolle
Fear is often our immediate response to uncertainty. There's nothing wrong with experiencing fear. The key is not to get stuck in it. ~ Gabrielle Bernstein
Despite everything, life goes on
Life doesn't stop; so should you. Keep moving and making efforts. It's not the end of the world but a new beginning.
Life is like riding a bicycle. To keep your balance you must keep moving. ~ Albert Einstein
Life goes on, and one should look ahead and not backward. ~ Sonali Bendre
In three words I can sum up everything I've learned about life: it goes on. ~ Robert Frost
No matter what happens, or how bad it seems today, life does go on, and it will be better tomorrow.

~ Maya Angelou
That's what History teaches us, I think, that life goes on, even though individuals die and whole civilizations crumble away: The simple things last; they are repeated over and over by each generation. ~ Philip Reeve
Things end. People leave. And you know what? Life goes on. Besides, if bad things didn't happen, how would you be able to feel the good ones? ~ Elizabeth Scott
Sometimes life is tough
Yes, life can be difficult. At such times, you've to become tougher. Treat it as an opportunity for you to grow and discover yourself.
When the going gets tough, the tough get going. ~ Joseph Kennedy
Tough times never last, but tough people do. ~ Robert H. Schuller
The pain you feel today is the strength you feel tomorrow. For every challenge encountered, there is an opportunity for growth. ~ Unknown
Life's challenges are not supposed to paralyze you; they're supposed to help you discover who you are.

~ Bernice Johnson Reagon
The ultimate measure of a man is not where he stands in moments of comfort and convenience, but where he stands at times of challenge and controversy. ~ Martin Luther King, Jr.
Most of the important things in the world have been accomplished by people who have kept on trying when there seemed to be no hope at all. ~ Dale Carnegie
And once the storm is over, you won't remember how you made it through, how you managed to survive. You won't even be sure whether the storm is really over. But one thing is certain. When you come out of the storm, you won't be the same person who walked in. That's what this storm's all about. ~ Haruki Murakami
But there is hope, always
After every sunset, there's a sunrise. Never lose hope. Only if you're hopeful then you can be successful. Accept the events of life, learn from them, and then move on with hope and confidence.
Hope means hoping when everything seems hopeless. ~ G.K. Chesterton
We must accept finite disappointment, but never lose infinite hope. ~ Martin Luther King Jr.
Never lose faith in yourself, and never lose hope; remember, even when this world throws its worst and then turns its back, there is still always hope.

~ Pittacus Lore
Once you choose hope, anything's possible. ~ Christopher Reeve
If you lose hope, somehow you lose the vitality that keeps moving, you lose that courage to be, that quality that helps you go on in spite of it all. And so today I still have a dream. ~ Martin Luther King Jr.
If we believe that tomorrow will be better, we can bear a hardship today. ~ Nhat Hanh
There is a saying in Tibetan, 'Tragedy should be utilized as a source of strength.' No matter what sort of difficulties, how painful experience is, if we lose our hope, that's our real disaster. ~ Dalai Lama XIV
Optimism is the faith that leads to achievement. Nothing can be done without hope and confidence. ~ Helen Keller
The responsibility is on us
We're the caretakers of the world and protector of all life on the Earth. We've to understand our responsibility and accept that we can make a difference. Our actions impact the whole world. One mistake can cause a disaster. Act responsibly.
The Earth is what we all have in common. ~ Wendell Berry
One of the first conditions of happiness is that the link between man and nature shall not be broken. ~ Leo Tolstoy
You can't escape the responsibility of tomorrow by evading it today. ~ Abraham Lincoln
It is easy to dodge our responsibilities, but we cannot dodge the consequences of dodging our responsibilities.

~ Sir Josiah Stamp
We are not put here on earth to play around. There is work to be done. There are responsibilities to be met. Humanity needs the abilities of every man and woman. ~ Alden Palmer
Until one has loved an animal, a part of one's soul remains unawakened. ~ Anatole France
The greatness of a nation can be judged by the way its animals are treated. ~ Mahatma Gandhi
Never doubt that a small group of thoughtful, committed citizens can change the world; indeed, it is the only thing that ever has. ~ Margaret Mead
And you're not alone
Your best friend is you. Even if you're in isolation, you won't be alone. Use meditation and mindfulness to learn about your true self. You're as strong as you know yourself.
Learn to be alone and to like it. There is nothing more freeing and empowering than learning to like your own company. ~ Mandy Hale
If you make friends with yourself, you'll never be alone. ~ Maxwell Maltz
The most important relationship in your life is the relationship you have with yourself. Because no matter what happens, you will always be with yourself. ~ Diane Von Furstenberg
Learn to be your own best friend because there's going to be days where no-one is going to be there for you but yourself.

~ Emily Blackford
The one person I am with forever is me. My relationship with myself is eternal, so I choose to be my own best friend. I choose to love and accept myself and talk to myself as I would to a beloved person in my life. And I saturate all the cells in my body with love, and they become vibrantly healthy. I relate with love to all of life. ~ Louise Hay
Invest in yourself
The quarantine times have been a blessing for some people who used this time to understand, grow, and invest in themselves. Your personal growth is your success. Learn new skills and use valuable time to improve your career and life.
The best investment you can make is in yourself. ~ Warren Buffett
"There is nothing noble in being superior to your fellow man; true nobility is being superior to your former self." ~ Ernest Hemingway
"Investing in yourself is the best investment you will ever make. It will not only improve your life, it will improve the lives of all those around you."

~ Robin Sharma
"Growth is the great separator between those who succeed and those who do not. When I see a person beginning to separate themselves from the pack, it's almost always due to personal growth." ~ John C. Maxwell
Make health your priority
Existence is the survival of the fittest. Remain physically and mentally fit to survive. To avoid suffering, focus on your health. COVID-19 has made us realize how important our immune system is and that we should keep making efforts to upkeep our mental and physical health to let our immune system work at its best.
"It is health that is the real wealth, and not pieces of gold and silver." ~ Mahatma Gandhi
"The groundwork for all happiness is good health." ~ Leigh Hunt
"To ensure good health: eat lightly, breathe deeply, live moderately, cultivate cheerfulness, and maintain an interest in life." ~ William Londen
"Physical fitness is the first requisite of happiness." ~ Joseph Pilates
"To keep the body in good health is a duty…otherwise we shall not be able to keep the mind strong and clear." ~ Buddha
"If you have health, you probably will be happy, and if you have health and happiness, you have the wealth you need, even if it is not all you want."

~ Elbert Hubbard
You start treating your body right and your immune system is better. ~ Aaron Bruno
The most powerful force to maintaining a good immune system is the power of positive thinking and not allowing yourself to be unnecessarily drained emotionally by worries and fears. ~ Frederick Lenz
As you begin to heal the inner you, you alter your immune system. ~ Wayne Dyer
Your family is important
Family is your support pillar. A strong family leads to a stronger and stable you. Invest time in your family. Your returns will always be more. This pandemic has seen families supporting each other and bonding more than ever.
"Family is not an important thing. It's everything." ~ Michael J. Fox
"Call it a clan, call it a network, call it a tribe, call it a family: Whatever you call it, whoever you are, you need one." ~ Jane Howard
"Other things may change us, but we start and end with the family." ~ Anthony Brandt
"When trouble comes, it's your family that supports you." ~ Guy Lafleur
"Having somewhere to go is home. Having someone to love is family. And having both is a blessing." ~ Unknown
"Being a family means you are a part of something very wonderful. It means you will love and be loved for the rest of your life."

~ Lisa Weed
"The bond that links your true family is not one of blood, but of respect and joy in each other's life." ~ Richard Bach
"Families are the compass that guides us. They are the inspiration to reach great heights, and our comfort when we occasionally falter." ~ Brad Henry
"The only rock I know that stays steady, the only institution I know that works, is the family." ~ Lee Iacocca
Work From Home is the new normal
The COVID-19 pandemic has forced companies to let the employees work from home. While WFM has its pros and cons, it can certainly be a challenge if you do not manage it properly.  To avoid distractions and achieve success, focus on your priorities.
"Wake up and get ready just like you're going to work. If you stay in your slippers all day you will not be as productive." ~ Elijah Schneider
Don't work from bed. You want your bed to be a place of peace and calm, not work stress." ~ Liz Grossman Kitoyi
The most important thing is to have dedicated office space where you can CLOSE THE DOOR and have set office hours. ~ Kathy Kristof
If you want to improve your focus now, you should choose the places where you work or study. Avoid places that have a lot of tempting distractions. ~ John Morgan
Identify which part of the day you feel most confident and energized, and use this time to work on the tasks that require the most concentration. ~ Ted Robbins
Concentrate all your thoughts upon the work in hand. The sun's rays do not burn until brought to a focus.

~ Alexander Graham Bell
To be able to work at home successfully takes all of the following: motivation, perseverance, work, good habits, no excuses, balance, accountability, and action. ~ Byron Pulsifer
Successfully working from home is a skill, just like programming, designing or writing. It takes time and commitment to develop that skill. ~ Alex Turnbull
Self-discipline helps
No matter what we do, there are always challenges and distractions. It's your self-control and determination that will help you achieve your goals.
"Discipline is the bridge between goals and accomplishment." ~ Jim Rohn
"Without self-discipline, success is impossible, period." ~ Lou Holtz
"Self-discipline is about controlling your desires and impulses while staying focused on what needs to get done to achieve your goal." ~ Adam Sicinski
"A disciplined mind leads to happiness, and an undisciplined mind leads to suffering."

~ Dalai Lama
"Discipline yourself to do the things you need to do when you need to do them, and the day will come when you will be able to do the things you want to do when you want to do them." ~ Zig Ziglar
"With self-discipline, most anything is possible." ~ Theodore Roosevelt
"I could only achieve success in my life through self-discipline, and I applied it until my wish and my will became one." ~ Nikola Tesla
"Discipline really means our ability to get ourselves to do things when we don't want to." ~ Arden Mahlberg
"We all have dreams. But in order to make dreams come into reality, it takes an awful lot of determination, dedication, self-discipline, and effort." ~ Jesse Owens
"Self-discipline begins with the mastery of thought. If you do not control your thoughts, you cannot control your needs. Self-discipline calls for a balancing of the emotions of your heart with the reasoning faculty of your head." ~ Napoleon Hill
Keep the stress and worries away
Keep calm and keep working. Work, and not worry. Worrying leads to nothing and doesn't help. Do not stress about what will happen or how will things get done. Just get down doing it – in the time that you'd spend worrying you might get a solution in hand.
"There is a great difference between worry and concern. A worried person sees a problem, and a concerned person solves a problem." ~ Harold Stephen
"Worry is like a rocking chair: it gives you something to do but never gets you anywhere" ~ Erma Bombeck
"Worry never robs tomorrow of its sorrow, it only saps today of its joy." ~ Leo F. Buscaglia
"Our fatigue is often caused not by work, but by worry, frustration and resentment." ~ Dale Carnegie
"Worry a little bit every day and in a lifetime you will lose a couple of years. If something is wrong, fix it if you can. But train yourself not to worry. Worry never fixes anything." ~ Mary Hemingway
The anxiety of worry is almost always worse than the actual consequences. Stop worrying and start doing.

~ James Clear
Stress is not created by the events in your life, but by your reaction to them. ~ James Pierce
You cannot always control what goes on outside. But you can always control what goes on inside. ~ Wayne Dyer
"The greatest weapon against stress is our ability to choose one thought over another." ~ William James
And be ready to change
If things stop working, look out for alternative ways. Always, be ready to change for the better. If you can't change the situation or the things, then change yourself. Be flexible always like a river, which finds its course despite meeting obstacles on the way.
"There is nothing permanent except change." ~ Heraclitus
"The measure of intelligence is the ability to change" ~ Albert Einstein
"If you don't like something, change it. If you can't change it, change your attitude."

~ Maya Angelou
Progress is impossible without change, and those who cannot change their minds cannot change anything. ~ George Bernard Shaw
To exist is to change, to change is to mature, to mature is to go on creating oneself endlessly. ~ Henri Bergson
If you always do what you've always done, you'll always get what you've always got. ~ Henry Ford
"It is not the strongest species that survive, nor the most intelligent, but the most responsive to change." ~ Charles Darwin
Being creative pays
Be creative and innovative. This pandemic has new challenges and people changed the way they think, live, and work. If you can be creative then you will always be useful and an asset.
"If you want something new, you have to stop doing something old" ~ Peter F. Drucker
"Creativity involves breaking out of established patterns in order to look at things in a different way." ~ Edward de Bono
"Creativity is thinking up new things. Innovation is doing new things." ~ Theodore Levitt
Conditions for creativity are to be puzzled; to concentrate; to accept conflict and tension; and to be born everyday; also to feel a sense of self." ~ Erich Fromm
"Creativity can solve almost any problem. The creative act, the defeat of habit by originality, overcomes everything."

~ George Lois
Creativity is the act of turning new and imaginative ideas into reality. Creativity involves two processes: thinking, then producing. Innovation is the production or implementation of a creative idea. If you have ideas, but don't act on them, you are imaginative but not creative. ~ Linda Naiman
"Progress is impossible without change, and those who cannot change their minds cannot change anything." ~ George Bernard Shaw
Start an online business or a side hustle
COVID-19 has forced many people to go jobless. As per WHO, there may be more such pandemics in store for the future. It will help if you have a side hustle or an online business to make a living even if your employment is at risk.
"You need to ask yourself "How much do you want" before you start your online business." ~ Satyendra Pandey
"To become successful online, you only need to remember the following : Good Heart + Passion + Web Design + SEO + Digital Marketing + Dedication + Positiveness + Patience = Success" ~ Dr. Christopher Dayagdag
"What do you need to start a business? Three simple things: know your product better than anyone, know your customer, and have a burning desire to succeed."

~ Dave Thomas
"An entrepreneur is someone who has a vision for something and a want to create." ~ David Karp
"Get a mentor in the applicable field if you're at all unsure of what you're looking for." ~ Kyle Bragger
"All humans are entrepreneurs not because they should start companies but because the will to create is encoded in human DNA." ~ Reid Hoffman
"The first rule of any technology used in a business is that automation applied to an efficient operation will magnify the efficiency. The second is that automation applied to an inefficient operation will magnify the inefficiency." ~ Bill Gates
"Your website should be your calling card, or your business front door." ~ James Schramko
"Almost everything worthwhile carries with it some sort of risk, whether it's starting a new business, whether it's leaving home, whether it's getting married, or whether it's flying into space." ~ Chris Hadfield
"90% of new business fail in the first three months of launching, due to lack of proper planning, wrong selection of niche/products and marketing platform." ~ K. Raveendran
"Sometimes you have to experiment with a lot of ideas and see which one sticks. If you're unsure, let the market decide." ~ Dorie Clark
"When you find an idea that you just can't stop thinking about, that's probably a good one to pursue." ~ Josh James
"If people like you, they'll listen to you, but if they trust you, they'll do business with you." ~ Zig Ziglar
"Chase the vision, not the money, the money will end up following you." ~ Tony Hsieh
Don't forget to help others
Helping others is divine. Never miss an opportunity to help others. We have seen many examples of this human spirit during the pandemic where people have come out of their comfort zones to pull out others from trouble. Be an angel to others; God will love you.
"He who serves the most, reaps the most." ~ Jim Rohn
"Selfless giving is the art of living." ~ Frederic Lenz
"Always have a willing hand to help someone, you might be the only one that does." ~ Roy T. Bennett
"The best way to find yourself is to lose yourself in the service of others." ~ Mahatma Gandhi
"Only a life lived for others is a life worthwhile." ~ Albert Einstein
"We rise by lifting others." ~ Robert Ingersoll
"You can have everything you want in life if you just help enough people get what they want in life." ~ Zig Ziglar
"Those who are happiest are those who do the most for others."

~ Booker T. Washington
"The purpose of life is to contribute in some way to making things better." ~ Robert F. Kennedy
"Kindness can transform someone's dark moment with a blaze of light. You'll never know how much your caring matters. Make a difference for another today." ~ Amy Leigh Mercree
"If you want happiness for an hour, take a nap. If you want happiness for a day, go fishing. And if you want happiness for a year, inherit a fortune. But if you want happiness for a lifetime, help somebody." ~ Chinese Proverb
"When you learn, teach. When you get, give." ~ Maya Angelou
"Only by giving are you able to receive more than you already have." ~ Jim Rohn
"While earning your daily bread, be sure you share a slice with those less fortunate." ~ Jackson Brown Jr.
"Our prime purpose in this life is to help others and if you can't help them, at least don't hurt them." ~ Dalai Lama
"If you're not making someone else's life better, then you're wasting your time. Your life will become better by making other lives better." ~ Will Smith
Always be grateful
We're always indebted to other people and events of life. The least we can do is be thankful to them. We can express our gratitude in words or by actions. We owe our gratitude to the thousands of COVID-19 warriors who have risked or even lost their lives to safeguard and help others.
"Thankfulness is the beginning of gratitude. Gratitude is the completion of thankfulness. Thankfulness may consist merely of words. Gratitude is shown in acts." ~ Henri Frederic Amiel
"We often take for granted the very things that most deserve our gratitude." ~ Cynthia Ozick
"Let us rise up and be thankful, for if we didn't learn a lot today, at least we learned a little, and if we didn't learn a little, at least we didn't get sick, and if we got sick, at least we didn't die; so, let us all be thankful." ~ Buddha
"No one who achieves success does so without the help of others. The wise and confident acknowledge this help with gratitude." ~ Alfred North Whitehead
"In ordinary life, we hardly realize that we receive a great deal more than we give, and that it is only with gratitude that life becomes rich." ~ Dietrich Bonhoeffer
"When I started counting my blessings, my whole life turned around." ~ Willie Nelson
"Gratitude helps you to grow and expand; gratitude brings joy and laughter into your life and into the lives of all those around you."

~ Eileen Caddy
"The root of joy is gratefulness." ~ David Steindl-Rast
"Gratitude unlocks the fullness of life. It turns what we have into enough, and more. It turns denial into acceptance, chaos to order, confusion to clarity. And it can turn a meal into a feast, a house into a home, a stranger into a friend." ~ Melody Beattie
"Be thankful for what you have; you'll end up having more. If you concentrate on what you don't have, you will never, ever have enough." ~ Oprah Winfrey
"As we express our gratitude, we must never forget that the highest appreciation is not to utter words, but to live by them." ~ John F. Kennedy
"Develop an attitude of gratitude, and give thanks for everything that happens to you, knowing that every step forward is a step toward achieving something bigger and better than your current situation." ~ Brian Tracy
Save money and create an emergency fund
Your savings can save you. Always save first and then spend. The money you saved can act as a lifeline in adverse situations like job loss or temporary cessation of income.
Do not save what is left after spending, but spend what is left after saving. ~ Warren Buffett
He who buys what he does not need, steals from himself. ~ Swedish Proverb
"The quickest way to double your money is to fold it in half and put it in your back pocket." ~ Will Rogers
Annual income twenty pounds, annual expenditure nineteen six, result happiness. Annual income twenty pounds, annual expenditure twenty pound ought and six, result misery. ~ Charles Dickens
Once you really accept that spending money doesn't equal happiness, you have half the battle won.

~ Ernest Callenbach
The art is not in making money, but in keeping it. ~ Proverb
Rich people stay rich by living like they're broke. Broke people stay broke by living like they're rich. ~ Unknown
A penny saved is a penny earned. ~ Benjamin Franklin
He who will not economize will have to agonize. ~ Confucius
If you wish to get rich, save what you get. A fool can earn money, but it takes a wise man to save and dispose of it to his own advantage." ~ Brigham Young
"The habit of saving is itself an education; it fosters every virtue, teaches self-denial, cultivates the sense of order, trains to forethought, and so broadens the mind." ~ T.T. Munger
Financial peace isn't the acquisition of stuff. It's learning to live on less than you make, so you can give money back and have money to invest. You can't win until you do this." ~ Dave Ramsey
"Every time you borrow money, you're robbing your future self." ~ Nathan W. Morris
Remember time is invaluable
Time is a great healer as well as a teacher. It helps you to overcome your loss or recover from wounds, and proper and planned use of time can yield benefits and achievement of objectives. Spend your time like money, wisely, and where it is important. You can earn back the wasted money but not the wasted time.
Time is money. ~ Benjamin Franklin
The key is in not spending time, but in investing it. ~ Stephen R. Covey
Time is free, but it's priceless. You can't own it, but you can use it. You can't keep it, but you can spend it. Once you've lost it you can never get it back. ~ Harvey Mackay
The trouble is, you think you have time. ~ Jack Kornfield
Regret for wasted time is more wasted time. ~ Mason Cooley
There's only one thing more precious than our time and that's who we spend it on. ~ Leo Christopher
If you love life, don't waste time, for time is what life is made up of.

~ Bruce Lee
The way we spend our time defines who we are. ~ Jonathan Estrin
Time slips away like grains of sand never to return again. ~ Robin Sharma
A man who dares to waste one hour of time has not discovered the value of life. ~ Charles Darwin
Determine never to be idle. No person will have occasion to complain of the want of time who never loses any. It is wonderful how much can be done if we are always doing. ~ Thomas Jefferson
Your time is limited, so don't waste it living someone else's life. ~ Steve Jobs
Change your 24 hours and you will change your life. ~ Eric Thomas
The time for action is now. It's never too late to do something. ~ Antoine de Saint-Exupery
If we take care of the moments, the years will take care of themselves. ~ Maria Edgeworth
Never leave 'till tomorrow which you can do today. ~ Benjamin Franklin
Do we need more time? Or do we need to be more disciplined with the time we have? ~ Kerry Johnson
Know the true value of time; snatch, seize, and enjoy every moment of it. No idleness, no laziness, no procrastination; Never put off till tomorrow what you can do today. ~ Lord Chesterfield
Nothing is a waste of time if you use the experience wisely. ~ Rodin
Money, I can only gain or lose. But time I can only lose. So, I must spend it carefully. ~ Unknown
Life isn't a matter of milestones, but of moments. ~ Rose Kennedy
Try to be in the present
Live in the present. Be grateful for what you have and cherish your relationships. Brooding in the past or future may be a source of anxiety, depression, or stress. Events will come and go, you just play your part and be concerned only about the moment.
If you aren't in the moment, you are either looking forward to uncertainty, or back to pain and regret. ~ Jim Carrey
Unease, anxiety, tension, stress, worry – all forms of fear – are caused by too much future, and not enough presence. ~ Eckhart Tolle
Don't think about the past. Just be here now. Don't think about the future. Just be here now. ~ Ram Dass
You can't have a better tomorrow if you are thinking about yesterday all the time. ~ Charles F. Kettering
Yesterday's the past, tomorrow's the future, but today is a gift. That's why it's called the present. ~ Bill Keane
For the present is the point at which time touches eternity. ~ C.S. Lewis
"Do not dwell in the past, do not dream of the future, concentrate the mind on the present moment."

~ Buddha
"If you feel anxiety or depression, you are not in the present. You are either anxiously projecting the future or depressed and stuck in the past. The only thing you have any control over is the present moment; simple breathing exercises can make us calm and present instantly." ~ Tobe Hanson
"The ability to be in the present moment is a major component of mental wellness." ~ Abraham Maslow
"Life gives you plenty of time to do whatever you want to do if you stay in the present moment." ~ Deepak Chopra
"Your life requires your mindful presence in order to live it. Be here now." ~ Akiroq Brost
"Today is the first day of the rest of your life." ~ American Proverb
"If you were conscious, that is to say totally present in the Now, all negativity would dissolve almost instantly. It could not survive in your presence." ~ Eckhart Tolle
"If you are depressed, you are living in the past, if you are anxious, you are living in the future, if you are at peace, you are living in the present." ~ Lao Tzu
"Losers live in the past. Winners learn from the past and enjoy working in the present toward the future." ~ Denis Waitley
Summing Up
The year 2020 has been different. Some call it a disappointment, disaster, weird, and whatnot. But it's true that we may indeed have to face more pandemics like this in the future. And we have to prepare ourselves for them.
Nevertheless, COVID-19 gave us important lessons in life. It forced us to accept there is uncertainty and we should not fear that. And that life goes on. Though life may be tough, instead of becoming weak, we need to use this as an opportunity to come out stronger.
We should always be hopeful. Always believe that tomorrow will be better. And as caretakers of the world, we've to act responsibly to safeguard it from all man-made dangers. Let's not disturb the stability of nature just to satisfy our taste or exotic pleasures.
If you have a relationship with your own self, you'd never be alone, even in isolation. You should invest in yourself to grow personally and also professionally. This pandemic has been an eye-opener that you need to take utmost care of your physical and mental health for your own happiness.
Your family is important and you should give time to it. This becomes possible with work-from-home becoming a new norm. However, you still need to enforce self-discipline to achieve your goals. And no matter what, keep the stress and worries away.
If the situation demands, you should change. And become creative or innovative to make your life or business better. If you do not have a business, then think of starting an online business or a side-hustle.
Don't forget to help others and always be grateful to those who have helped you. Remember to save money before spending and treat time as money – spend it wisely. While time is invaluable, you should try to be in the present to avoid anxiety, stress, and worries in life.
For now, on the 2020 New Year's Eve, we wish you a very Happy New Year 2021 and hope it turns out to be a great year that eclipses over the hardships and pains of 2020.
Over to you –
What are the lessons you learned this year? What would you like to be added to this list of life lessons? Please comment below.